Chief Meteorologist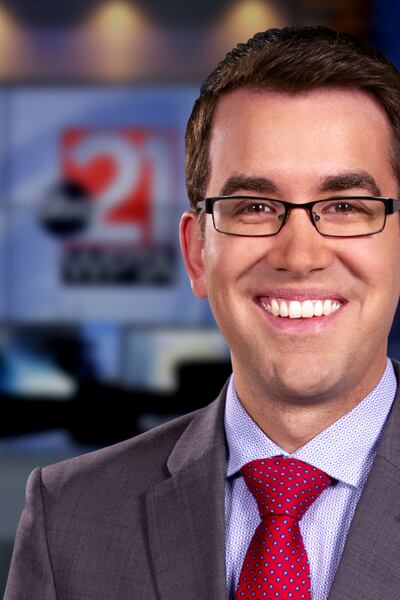 Matt Leach is Chief Meteorologist for Northeast Indiana and Northwest Ohio's Weather Authority, ABC21. He's a graduate of Purdue University and a member of the National Weather Association.
Matt's first forecasting gig began in mid 2009, where he provided detailed video and written forecasts in his hometown on the Kitsap Peninsula of western Washington State for one of the region's largest newspaper publications.
In 2013, Matt was hired by Microsoft to write weather explainers for over 60 weather terms that now populated MSN's "Weather 101" site.
In 2014, Matt became Fort Wayne's newest weekend meteorologist and weekday reporter for ABC21. He produced creative stories in various counties across the area as part of ABC21's "Life's Better Here" series and could be found going live at fairs and festivals throughout the region.
In 2016, Matt was promoted to the position of Chief Meteorologist where he currently presents the weather at 5, 5:30, 6 & 11 pm. He can also be found leading team coverage live on television and social media when the weather turns severe.
Matt has won several awards, including two Emmys, Outstanding Weather Operation from the Associated Press, Favorite Local Television Personality from the Fort Wayne Newspapers' Reader's Choice Awards, and Best Weathercast from the Indiana Broadcaster's Association.
In April 2021, Matt and a team of producers put together a 30-minute special weather presentation for kids that aired on ABC in the summer of 2020. It went on to win an Emmy and Regional Edward R. Murrow award for Excellence in Innovation.
From growing up in the Pacific Northwest to living in Southern Africa for a couple of years, Matt has experienced wild temperature swings. He has seen the thermometer rise well over 110 degrees and fall below minus 40 degrees with wind chills surpassing 50 below.
When Matt isn't busy chasing storms and severe weather, he enjoys reading a good Stephen King novel, walking his dog, Gunther, and most importantly doing anything that gives him the opportunity to be with his best friend and spouse since 2015, Logan.
Education
M.S., Purdue University
Affiliations
National Weather Association
Awards
Emmy, 2021 (Lower Great Lakes) - Children/Teen/Youth Programming
Emmy, 2019 (Lower Great Lakes) - Best Newscast (Market 41+)
Regional Edward R. Murrow Award (2021) - Excellence in Innovation
Indiana Broadcasters Association (2020) - Best Weathercast
Associated Press (2019) - Outstanding Weather Operation