WATCH: ATF displays $100,000 worth of stolen guns that were 'headed to the streets'
Officials say suspect filled two coolers full of guns at a Michigan Dunham's
Published: Nov. 21, 2023 at 1:10 PM EST
BENTON TOWNSHIP, Mich. (WNDU) - Police are releasing new details regarding the kidnapping and robbery at a sporting goods store last week in Benton Township.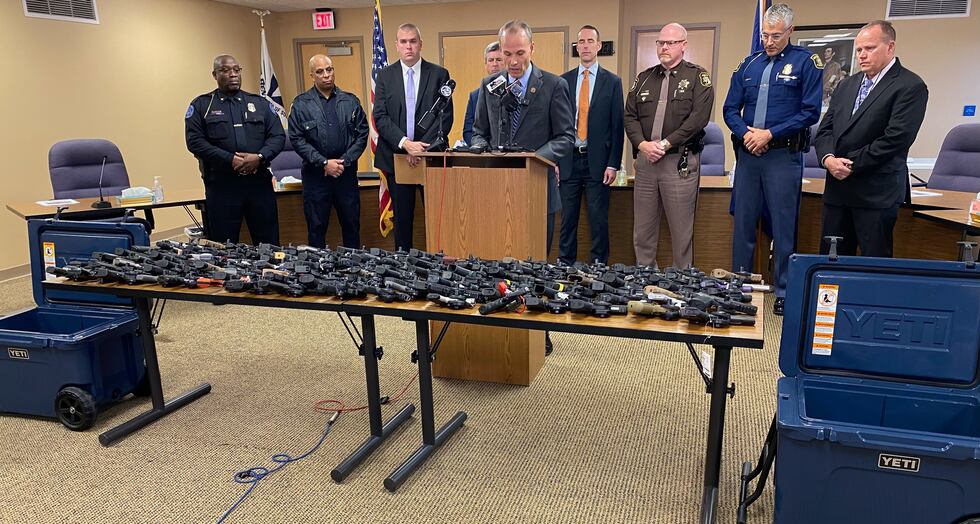 More than 120 handguns were prominently displayed by ATF officials in Michigan at a Tuesday press conference. Guns, they say, were headed to the street.
"These guns were headed to folks that are mandated by law not to have firearms," Jim Deir with Michigan ATF said.
According to police, the armed robbery happened last Thursday at the Dunham's Sports store at 1000 E. Napier Avenue.
While investigating, police learned that a manager at Dunham's was kidnapped at gunpoint away from the store and was held hostage by two suspects: 25-year-old Dontrell Nance and 33-year-old Darnell Bishop. One of the men then went inside the store, which was closed at the time of the robbery, and stole a large number of pistols by placing them in two large yeti coolers.
The manager was released by the men after the robbery and called police, who tracked the suspects and took them into custody. Police say all but one of the stolen pistols was successfully recovered.
"In cases like this, folks think this is an easy score," Deir said. "You're looking at almost $100,000 worth of guns."
Nance and Bishop face federal charges.
Despite the robbery happening in Michigan, officers feel these guns could've gotten anywhere, potentially including northeast Indiana.
"You've got 100 guns that were headed to the streets of Grand Rapids, to the streets of Detroit, Lansing, Betton Harbor, across the state," Deir said. "These are easily sold on the streets, there's a huge market."
Law enforcement officials held a joint news conference on Tuesday to announce more details on the investigation.
Copyright 2023 WPTA. All rights reserved.