First Alert Forecast: Seasonal temperatures on Sunday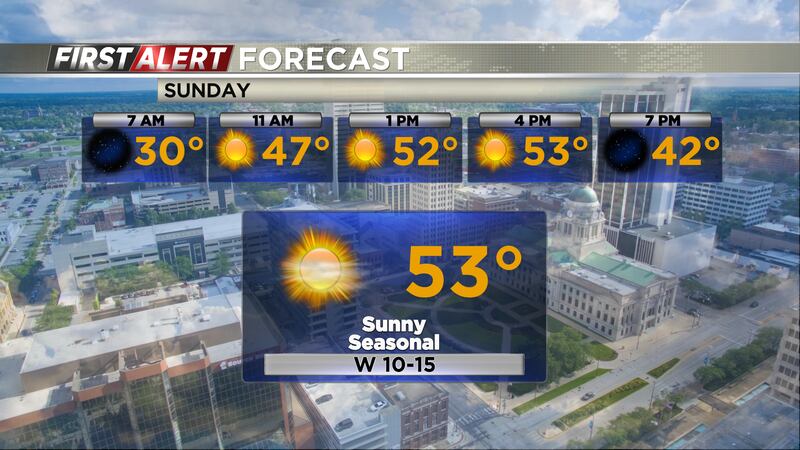 Published: Nov. 18, 2023 at 5:05 PM EST
FORT WAYNE, Ind. (21Alive) - While not quite as warm as the 60s we experienced this past week, the end of the weekend won't be to bad for this time of year.
Overnight into Sunday morning, the air will cool off quickly with temperatures bottoming out in the low 30s. However, in the afternoon we'll see temperatures rebound into the low 50s, which is about 5 degrees warmer than normal for this time of year.
The sunshine and blue sky will hang around for Sunday as well, but the weather patter will start to change on Monday. Clouds will take over late morning, resulting in afternoon temperatures only in the upper 40s. The late Monday night, our next weather system will begin to move in, bringing us rain showers. The rain will continue throughout the day on Tuesday, but for us here in NE Indiana and NW Ohio, it's expected to be light in nature, not having too much of an impact on those Thanksgiving holiday travel plans, but still account for the rain if you do plan on hitting the road on Tuesday.
The weather system will move out on Wednesday morning, leaving colder air in its wake. High temperatures on Wednesday and Thanksgiving day will only be in the low 40s, but it's an improvement from earlier weather models that had daytime highs only in the low 30s.
Copyright 2023 WPTA. All rights reserved.