Amtrak train derails in New Buffalo Township after crash
Lakeside Road will be closed to traffic for several days for railroad-related repairs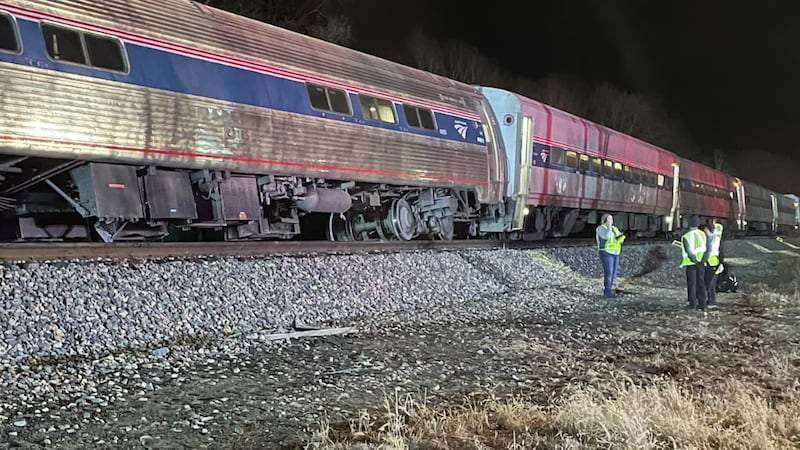 Published: Nov. 16, 2023 at 10:38 PM EST
BERRIEN COUNTY, Mich. (WNDU) - An investigation is underway after an Amtrak train collided with a truck and a tow truck, leading to a minor derailment on Thursday night.
The crash happened around 9:20 p.m. at the Lakeside Road crossing near US-12 in New Buffalo Township. Officials say a tow truck was in the process of removing another truck that was stuck on the tracks when a westbound Amtrak train headed for Chicago was unable to stop and collided with both vehicles.
The train, which was carrying around 200 people at the time of the crash, derailed but stayed upright on the tracks. Officials say the train's engineer and approximately 10 passengers suffered minor injuries and were treated by local ambulance services.
"I saw a bright flash of light spark up and there was fire," said Riley Kozloff, a passenger on the train. "Me and my friend were looking at each other, we didn't know what was happening. I bumped my head a little at first, the collision just happened. It felt like it was 20 seconds long, everyone was just confused. It was really like a scene out of a movie, it was crazy."
There were over 16 agencies that helped with the crash, ranging from local fire, police, departments, and even the Michigan Department of Transportation.
This is not the typical response for the first responders of New Buffalo, but they were ready to do their part.
"It was a little shocking to get the call for this accident tonight," said New Buffalo Fire Chief James Flick. "But all our guys and the mutual aid departments that were here handled it very well. We worked well together and controlled the scene. We try to train for this, we actually had a training not too long ago for this type of incident, so our guys were prepared for it."
A temporary shelter was set up at New Buffalo High School's gym and four school buses were used to transport passengers to the shelter.
Tracy Ripley, principal of New Buffalo High School, tells 16 News Now that passengers were also able to use the school's restrooms and had accessibility to outlets for charging their phones.
Many passengers were picked up by family members and friends at the school and Amtrak provided buses to transport the remaining passengers to the Amtrak train station in Chicago at approximately 12:40 a.m. early Friday morning. Ripley says the school was empty by 1:15 a.m.
In the meantime, officials say Lakeside Road will be closed to traffic between US-12 and Kruger Road for multiple days to make necessary railroad-related repairs. An exact timeline for the road's reopening has yet to be determined.
You're asked to use US-12 to Basswood Road to Kruger Road as a detour while the closure is in place or find an alternate route.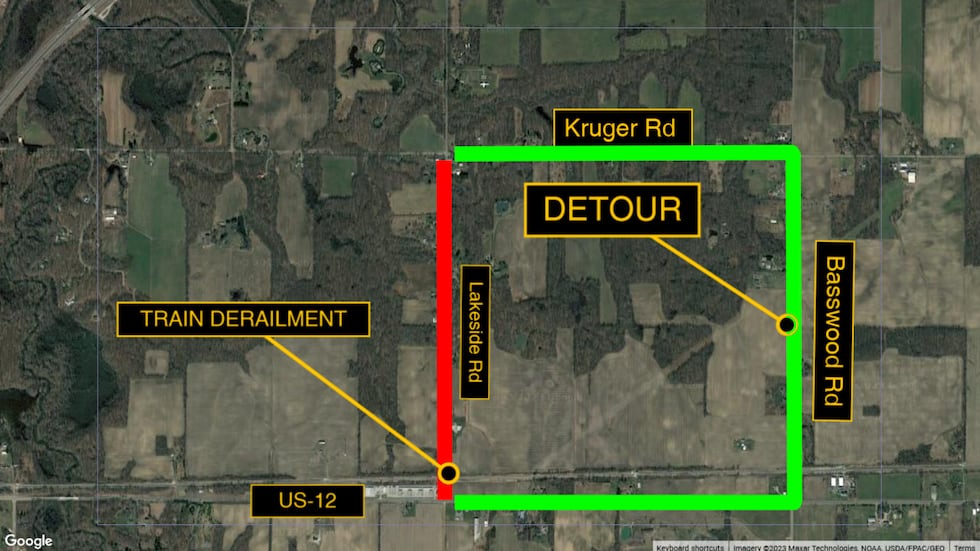 Stay with 16 News Now on-air and online as we continue to bring you the latest coverage on this developing story.
Copyright 2023 WNDU. All rights reserved.