Alex Murdaugh pleads guilty to financial crimes in state court, adding to prison time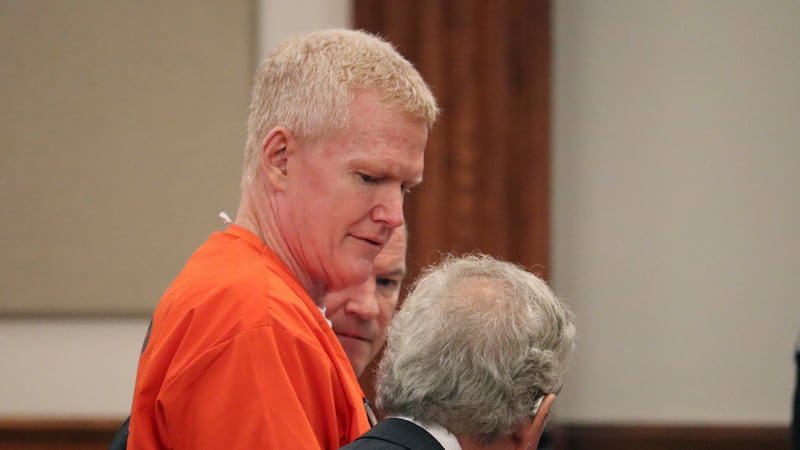 Published: Nov. 17, 2023 at 2:32 PM EST
|
Updated: Nov. 17, 2023 at 5:17 PM EST
BEAUFORT, S.C. (AP) — Alex Murdaugh pleaded guilty Friday to stealing millions of dollars from vulnerable legal clients in schemes lasting over a decade under an agreement that all but ensures more prison time for the longtime lawyer who was convicted of killing his wife and younger son.
Murdaugh agreed to plead guilty to 22 total counts, including money laundering, breach of trust and financial fraud, in exchange for a 27-year sentence. Judge Clifton Newman said he intends to officially accept the plea deal during a sentencing hearing set for Nov. 28 so that victims or their families may attend.
"I agree that I wrongly took all of that money, your honor, and did all of those crimes," Murdaugh told Newman.
"I am guilty," he added.
The deal resolves 101 total state charges related to the financial wrongdoing, including allegations that Murdaugh stole millions in legal settlements from clients who were badly injured or from the families of those killed on the job. He also allegedly stole millions from his law firm and ducked hundreds of thousands in state income taxes.
Creighton Waters, the lead prosecutor, said lawyers chose 22 counts that they felt represented each victim or act of lawlessness. Victims included a family housekeeper who died after a fall at the Murdaugh estate in South Carolina, and a deaf man who became quadriplegic after a 2009 car crash.
A pretrial hearing in the housekeeper's case was temporarily postponed Friday as lawyers on both sides shuffled in and out of the courtroom, reviewing hotly printed papers outlining the agreement. Waters returned for good after a three-hour delay with a smile, and took a selfie at one point.
"This former lawyer, Alex Murdaugh, used his power and his influence and his law license in these courtrooms to steal," Waters told Newman as he announced an agreement that he said ensures Murdaugh "will remain in state prison for a very long time."
Murdaugh sat largely straight-faced in an orange jumpsuit as Waters ticked off each ruse to divert settlements or double count checks so he could pay off mounting debts. He also agreed that he owed restitution totaling amounts that will be decided at his sentencing hearing.
Eric Bland, a lawyer who represented the family of the late housekeeper, said the guilty plea will allow victims — 18 total, according to Waters — "to begin the process of healing." Bland added that the hearing later this month will allow victims to "look Alex Murdaugh in the eye" and say "how they feel about him, how he manipulated them, and the damage that they have done to them in their lives."
Murdaugh is already serving life in prison without parole after a sensational March trial resulted in guilty verdicts on two counts of murder.
His lawyers are seeking a new trial in that case, citing allegations that the court clerk tampered with the jury. The clerk has denied the accusations that she improperly swayed jurors.
Murdaugh recently admitted his guilt to 22 federal counts of financial fraud and money laundering.
___
Pollard is a corps member for the Associated Press/Report for America Statehouse News Initiative. Report for America is a nonprofit national service program that places journalists in local newsrooms to report on undercovered issues.
Copyright 2023 The Associated Press. All rights reserved.