Sean 'Diddy' Combs accused of years of rape, abuse by singer Cassie in lawsuit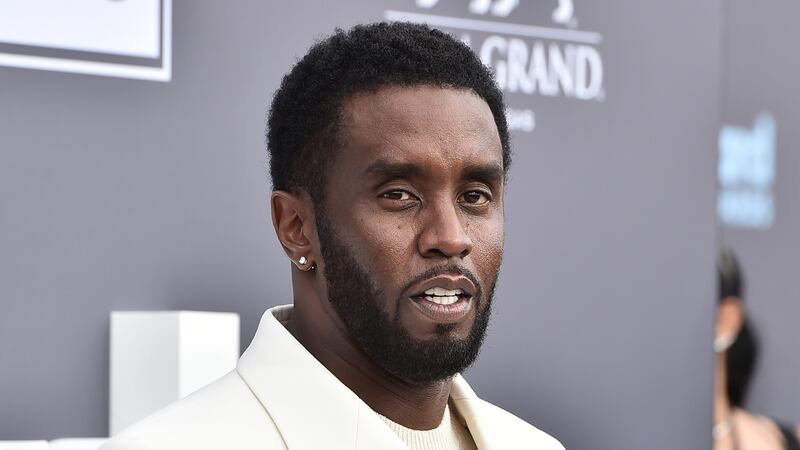 Published: Nov. 16, 2023 at 5:49 PM EST
|
Updated: Nov. 16, 2023 at 7:10 PM EST
NEW YORK (AP) — Sean "Diddy" Combs, was accused in a lawsuit Thursday of subjecting R&B singer Cassie to a yearslong relationship that included beatings and rape.
Cassie, whose legal name is Casandra Ventura, alleged in the suit filed against the producer and music mogul in New York federal court that Combs brought her into his "ostentatious, fast-paced, and drug-fueled lifestyle" not long after she met him and signed to his label when she was 19 and he was 37 in 2005.
Attorney Ben Brafman said Combs "vehemently denies" the allegations.
Ventura, now 37 herself, said Combs, now 54, began the pattern of abuse began as soon as their relationship did.
The suit alleges that, "prone to uncontrollable rage," he subjected her to "savage" beatings in which he punched, kicked and stomped her. It alleges he plied her with drugs, and forced her to have sex with other men while he masturbated and filmed them.
The suit says that as she was trying to end the relationship in 2018, Combs forced her into her Los Angeles home and raped her.
"After years in silence and darkness, I am finally ready to tell my story, and to speak up on behalf of myself and for the benefit of other women who face violence and abuse in their relationships," Ventura said in a statement.
The Associated Press does not typically name people who say they have been sexually abused unless they come forward publicly as Ventura has.
Brafman called the allegations "lies."
"For the past six months, Mr. Combs has been subjected to Ms. Ventura's persistent demand of $30 million, under the threat of writing a damaging book about their relationship, which was unequivocally rejected as blatant blackmail," he said in a statement. "Despite withdrawing her initial threat, Ms. Ventura has now resorted to filing a lawsuit riddled with baseless and outrageous lies, aiming to tarnish Mr. Combs's reputation and seeking a payday."
Ventura's lawyer Douglas Wigdor responded in a statement that Combs offered her "eight figures to silence her and prevent her the filing of this lawsuit. She rejected his efforts and decided to give a voice to all woman who suffer in silence."
Combs is among the most influential hip-hop producers and executives of the past three decades.
He and Ventura began dating in 2007 and had an on-and-off relationship for more than a decade.
She became known for the Ryan Leslie-produced hit single "Me & U," which secured the No. 1 spot on the Billboard Hot R&B/Hip-Hop songs chart in 2006. The song was the lead single of her only studio album, which was self-titled.
As an actor, she has appeared in several television and films projects including Fox's "Empire," "Step Up 2:The Streets" and "Spenser Confidential."
Combs built one of hip-hop's biggest empires, blazing a trail with several entities attached to his famous name. He is the founder of Bad Boy Records and a three-time Grammy winner who has worked with a slew of top-tier artists including Notorious B.I.G., Mary J. Blige, Usher, Lil Kim, Faith Evans and 112.
The mogul created the fashion clothing line Sean John, launched the Revolt TV channel with a focus on music, and produced the reality show "Making the Band" for MTV.
This year, he released his fifth studio album "The Love Album: Off the Grid," which earned two Grammy nominations this month.
The lawsuit cites a speech Combs gave while receiving a lifetime achievement honor at the BET Awards in 2022, in which he thanked Ventura for "holding me down in the dark times, love."
The suit says, "The truth, however, is that Cassie — Ms. Casandra Ventura — was held down by Mr. Combs and endured over a decade of his violent behavior and disturbed demands."
Copyright 2023 The Associated Press. All rights reserved.