First Alert Forecast: Off-and-on rain showers for Friday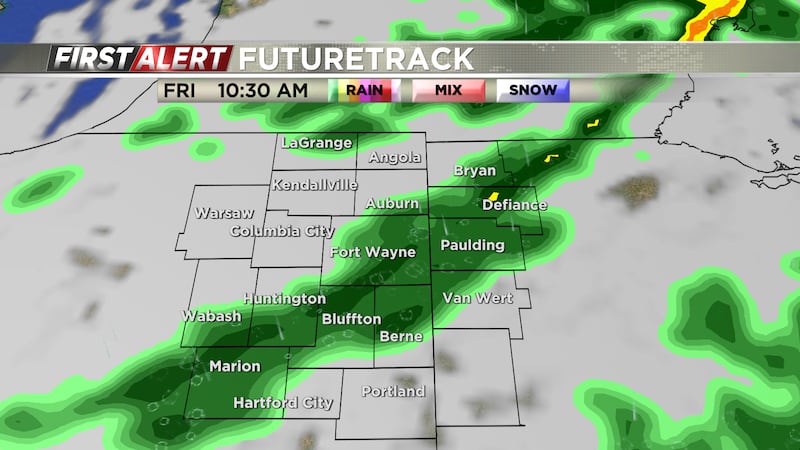 Published: Nov. 16, 2023 at 2:49 PM EST
FORT WAYNE, Ind. (21Alive) - Clouds will continue to roll in throughout the day on Thursday, but overall we'll still see some clear sky and sunshine continuing into the late afternoon. Temperatures maxed out in the mid 60s, which is about 15 degrees warmer than normal.
Friday morning, a cold front will start to swing through, brining scattered rain showers from Friday morning, ending in the afternoon. Temperatures, though, will slowly drop from about lunchtime onwards on Friday, resulting in temperatures at noon in the mid 50s to the upper 40s by 5pm. So, for Christmas on Broadway, we shouldn't have to worry about rain, but definitely plan on needing some layers.
The weekend will feature afternoon temperatures in the upper 40s and low 50s, but we'll return to dry and mostly sunny conditions.
Our next chance for rain comes on Tuesday afternoon into Wednesday, which could impact holiday travel. Once the rain moves through, much cooler air is in store in the run-up to Thanksgiving.
Copyright 2023 WPTA. All rights reserved.