Allen County Council approves hire of new jail officers
Published: Nov. 16, 2023 at 4:49 PM EST
FORT WAYNE, Ind. (WPTA) - Thursday, members of the Allen County Council took action to try to make the jail safer.
A federal judge says the county jail should have 171 confinement officers, but right now, the sheriff's department only has 154 officers.
Thursday the council gave the go-ahead for the sheriff to hire 18 new confinement officers.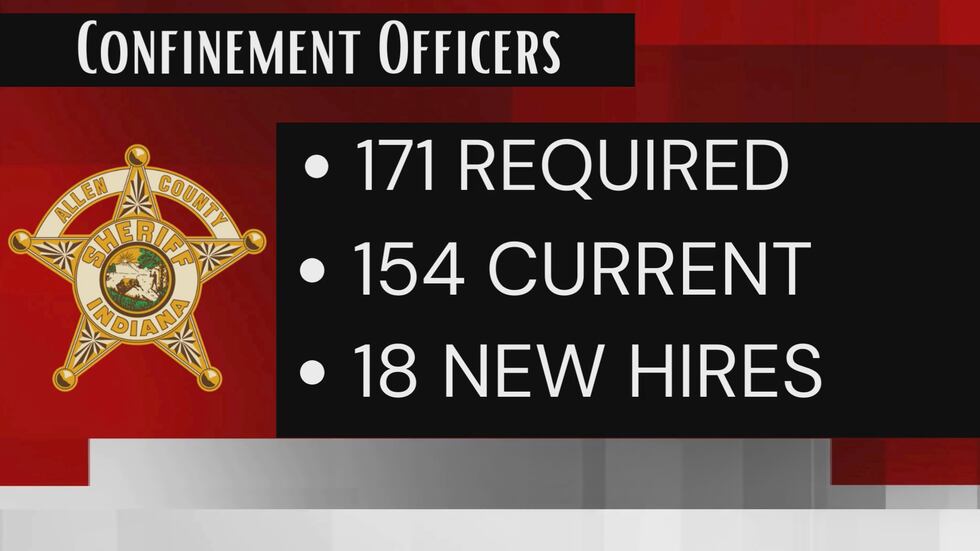 "This 18 is the final 18 to hit that sort of magic number that the judge has indicated we need based on the average population that he's seen," County Councilman Paul Lagemann said.
Currently the jail houses about 720 inmates, meaning for roughly every four and a half inmates, one officer is staffed to watch.
Lagemann acknowledges the new hires aren't a permanent solution.
"Is it going to be perfect? No," Lagemann said. "Until we have a new facility, until we upgrade the facility, it's not going to be perfect. It's going to help."
In a recent 21Investigates report, we took a closer look at concerns about the aging jail and how the structure itself creates safety issues.
WATCH PART ONE OF OUR REPORT: "Deadly Problems": Fort Wayne woman says the criminal justice system failed the father of her children
"I did see the report," Lagemann said. "Certainly concerning and also justification for more confinement officers."
Lagemann understands there are deeper concerns with how the system treat inmates with mental illness.
He doesn't think jail is the right solution.
"Wrong place for them, absolutely wrong place," Lagemann said. "We do have to figure out a better way to deal with mental health."
County officials believe a new, modern jail will help.
While the county is moving forward, members of a local group called 'Help Not Handcuffs' are against a new jail entirely.
They believe the $400 million being used for the jail would be better spent on mental health treatment and housing.
The public information officer for the sheriff's department tells 21Alive the 18 new officers will not be trained in crisis intervention for mental illness prior to beginning at the jail.
He says they will receive their training when the class is offered.
Copyright 2023 WPTA. All rights reserved.