'VERY IMPULSIVE:' Juvenile arrests, crime on the rise in Allen County
Published: Nov. 15, 2023 at 5:11 PM EST
|
Updated: Nov. 15, 2023 at 5:12 PM EST
ALLEN COUNTY, Ind. (WPTA) - The number of juveniles arrested has been on the rise in Allen County.
21Alive spoke with Allen County Prosecutor Mike McAlexander about the increases his office is seeing.
"I think one thing to remember is that juvenile crime is very impulsive," Mike McAlexander said. "They grab a candy bar and run. There's just a lot of impulsive, not well-thought-out behavior. It is very difficult from our perspective because we have the safety of the community that we have to work with."
McAlexander says this year, the county has had several shootings involving juveniles.
On November 7, two teens were charged after bringing guns near Weisser Park Elementary School. Two days later two 17-year-olds were arrested in connection to a shooting on Swinney Avenue.
For a 16- or 17-year-old who commits a violent offense, they can be what's called a 'directed file', which sends them straight to adult court. Those under 16 who commit the same violent crime can also be waived to adult court. While McAlexander says they haven't seen a significant increase, the prosecutor's office has seen an "irregular amount" this year.
"It's a little unusual to see as many shootings as we've had recently," McAlexander said. "This year, through the first 10 months, we are about the same number of arrests that we had all of last year (2022) with juveniles."
Since the beginning of November, the county has already surpassed last year's total. McAlexander says the county could see an additional 120-150 arrests in the final two months, leading to a 12 to 15 percent increase from last year.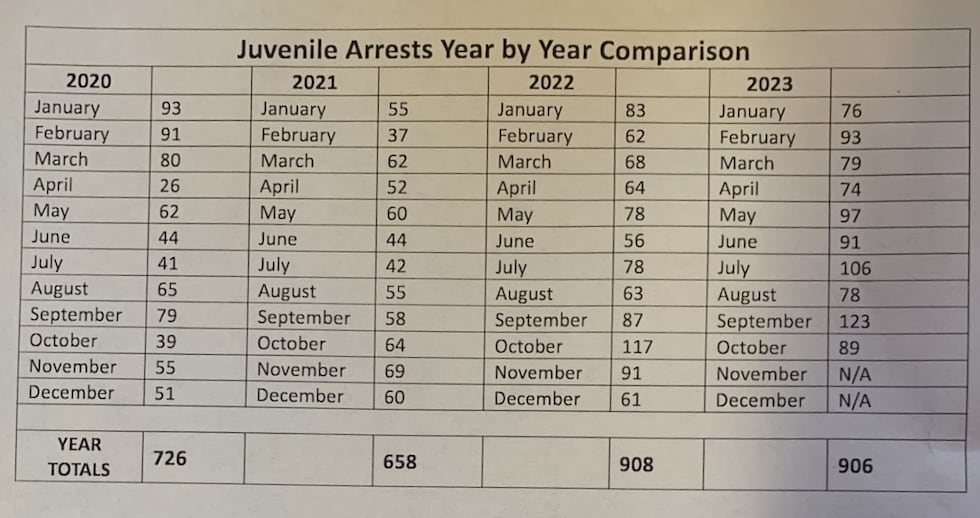 What has caused the increase?
Prosecutor McAlexander says they don't have a definitive answer. He says they can speculate that it could be an effect of COVID-19, lack of socializing, and the lack of adult supervision and guidance.
"I don't think the numbers are so significant that we have to be super alarmed, but I think it's something we should be aware of," McAlexander said. "It's probably too soon to see if we are seeing kids dropping out of school. Usually, when we see that, it's not a good sign. Normally when we see an increase in students dropping out, we see an increase in young-adult crime."
Juveniles in Allen County are getting arrested for a number of offenses, including selling or possessing drugs and stealing cars. One case that stuck out in McAlexander's mind was an 11-year-old who was caught stealing Kias and Hyundais. Other charges have been more serious, with teenagers shooting and killing other teens and getting their hands on weapons.
The prosecutor shared a strong message to parents:
Copyright 2023 WPTA. All rights reserved.