TinCaps donates 2,000+ pork meals to Community Harvest Food Bank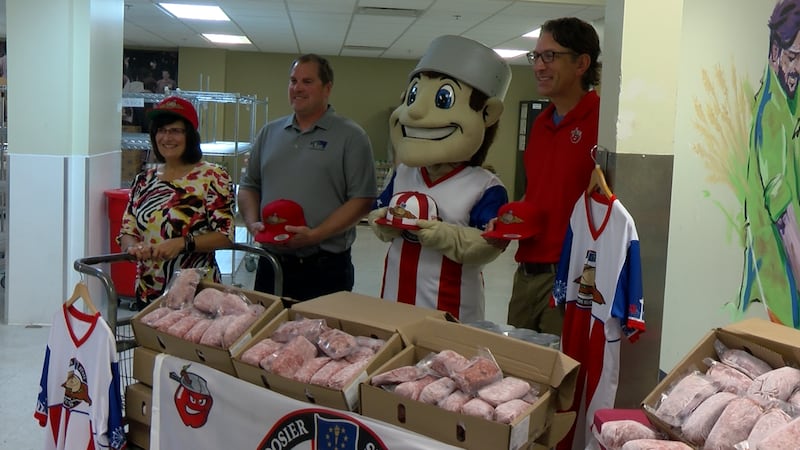 Published: Oct. 6, 2023 at 3:32 PM EDT
FORT WAYNE, Ind. (WPTA) - The Fort Wayne TinCaps leaders announced on Friday the team is working with Indiana Pork to donate more than 2,000 pork meals to an area food bank.
The organizations say they are donating the meals, consisting of more than 500 pounds of ground pork, to the Community Harvest Food Bank of Northeast Indiana.
The donation comes after the team sold 2,004 tenderloin sandwiches at Parkview Field from Aug. 3-6 during its "Hoosier State Tenderloins Series." For each sandwich sold during the event, a meal of ground pork was donated to help those in need.
"We're delighted to have a partnership that results in so much good for our community," TinCaps Vice President of Marketing and Promotions Michael Limmer said. "We're proud that a fun and silly name and idea has translated into the opportunity to provide more than 2,000 meals for local families in need."
Indiana Pork notes that Indiana is the fifth-largest pork-producing state in the U.S. with nearly 3,000 Hoosier pig farmers.
"Indiana pig farmers are always happy to feed our neighbors," Indiana Pork's Director of Communications Jeanette Merritt said. "Our farmers are happy to donate pork to their local food pantries and are equally excited to partner with the TinCaps to make a big donation to help feed Fort Wayne residents."
Copyright 2023 WPTA. All rights reserved.