Civil War Memorials unveiled at Veterans National Memorial Shrine and Museum
Unmarked grave identified as fallen veteran
Published: Sep. 30, 2023 at 7:31 PM EDT
FORT WAYNE, Ind. (WPTA) - On Saturday, three Civil War Memorials were unveiled in part thanks to the Veterans National Memorial Shrine and Museum.
The first helped solve a mystery of an unmarked grave at Lindenwood Cemetery.
Daniel H. Amsden served in the Company B 12th Indiana Cavalry. Amsden was from Ligonier and was visiting Fort Wayne when he passed. He was buried in an unmarked grave in 1881. Thanks to genealogy, cemetery officials, and Tom Schmitt from the Veterans Memorial Shrine and Museum Amsden, he was identified.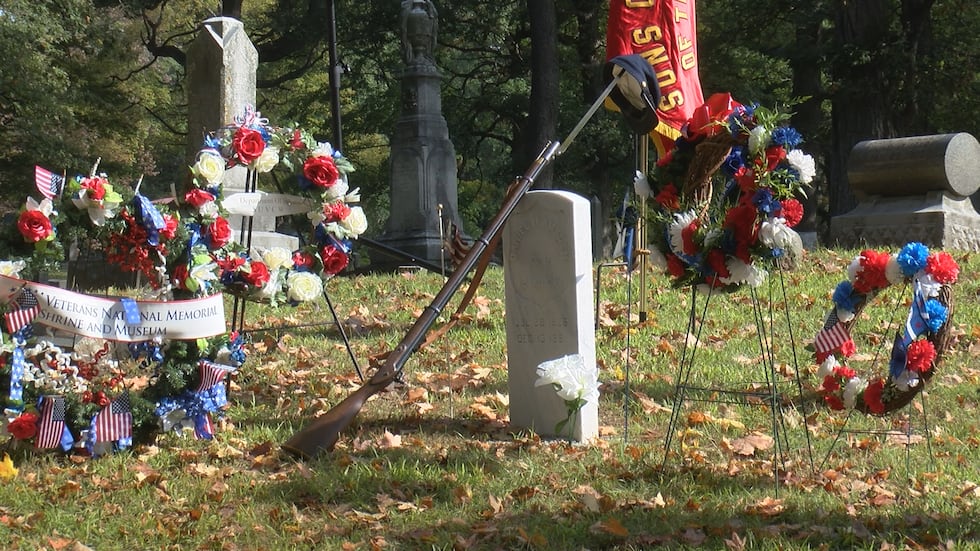 A headstone was purchased and unveiled in front of Amsden's family. His great-great-granddaughter, Rebecca Pressler says the family believes he died of smallpox. Due to the times, she believes Amsden was buried in Fort Wayne. Saturday was believed to be his first funeral.
Once the ceremony was finished, the group was invited to the Veterans National Memorial Shrine and Museum. There, officials held a second ceremony to dedicate two new Civil War Memorials.
The first was a 'Sultana Monument' to honor the United State's worst maritime disaster in history. Mere weeks after the Civil War came to an end, the steamboat, Sultana exploded and sank in the Mississippi River, killing an estimated 1,700 Union soldiers who were released from a prisoner of war camp on their way home.
The second monument was dedicated to those who served in the Civil War. The 6-foot-high black granite monument was dedicated by Chris Bickel in honor of her late husband Glen.
Near the end of the ceremony, officials with the Lindenwood Cemetery presented a check to help install and create a fourth Civil War Monument. Once complete, the monument will honor Mother George, the Indiana nurse who joined the Army Nurse Corps, at 54 years old.
To learn more about the Veterans National Memorial Shrine and Museum click here.
Copyright 2023 WPTA. All rights reserved.