Two arrested after Michigan police pursuit crosses into Steuben County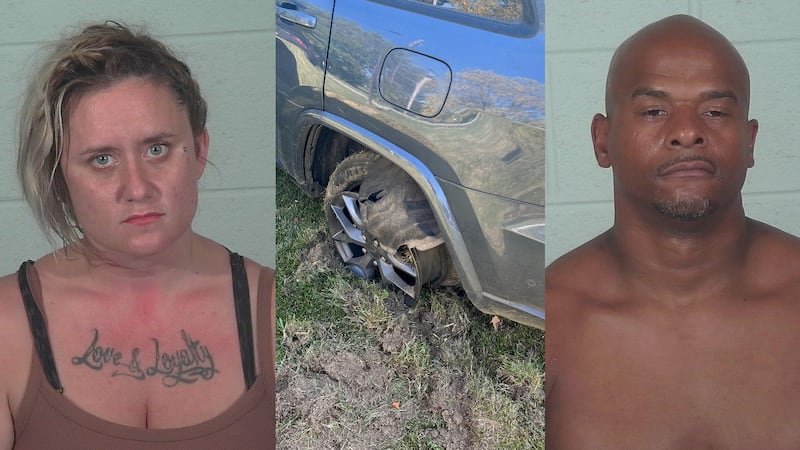 Published: Sep. 22, 2023 at 3:31 PM EDT
STEUBEN COUNTY, Ind. (WPTA) - The Steuben County Sheriff's Office says the department assisted in a high-speed chase late Friday morning that resulted in the arrest of two Michigan residents.
Police say just after 11:15 a.m., deputies were called by the Branch County Sheriff's Office in Michigan for help on a high-speed pursuit that was approaching the Indiana/Michigan state line.
The chase then entered Steuben County on Old US 27 and continued southbound to SR 120 as Steuben County deputies were responding. Officers eventually used stop sticks in an attempt to de-escalate the pursuit before it reached town limits. Even after driving over the stop sticks, police say the suspects continued driving through the downtown area of Fremont.
Branch County Sheriff's deputies were then able to stop the car on the city's east side. They say the woman who was driving then tried to run off before being captured behind a home. She was identified as 37-year-old Ashley Rose Daniels of Kalamazoo, MI.
Daniels was arrested on preliminary charges of resisting law enforcement with a vehicle, reckless driving, and possession of Marijuana.
A man who was a passenger in her car, 43-year-old David Danquan Williams of Kalamazoo, was also apprehended. Police say they found Williams had an active felony arrest warrant out of Kalamazoo County and was booked into the Steuben County Jail on the fugitive warrant, awaiting extradition.
Police say additional criminal charges are being sought against the two in Branch County.
The case remains under investigation at this time.
Copyright 2023 WPTA. All rights reserved.