Police officer killed, another injured after cruiser hit by speeding car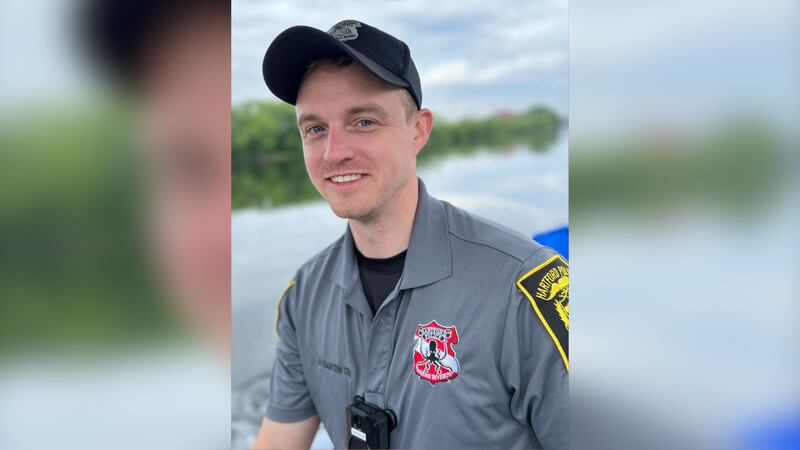 Published: Sep. 7, 2023 at 4:20 PM EDT
|
Updated: Sep. 7, 2023 at 4:23 PM EDT
HARTFORD, Conn. (WFSB/Gray News) - A police officer was killed and another was seriously injured Wednesday night when their cruiser was struck by a car speeding through a red light while running from a traffic stop, authorities said.
The driver of the car was arrested.
According to police, Officer Robert "Bobby" Garten, 34, died from his injuries. Officer Brian Kearney was seriously injured and taken to the hospital.
"My heart and prayers and the love and prayers of our whole city are with Officer Garten's parents, family, loved ones, friends and colleagues, and the entire HPD family," Mayor Luke Bronin said.
"Bobby Garten loved this city, loved the Hartford Police Department, served our community with distinction, courage, skill and compassion, and this loss is immeasurable for all who loved, served with, and knew him. Officer Garten and his family have our everlasting respect and gratitude."
Police Chief Jason Thody said Garten was in the passenger's seat while Kearney was driving the cruiser with its emergency lights on as they were responding to a separate call for service.
Authorities said other traffic officers had pulled over a blue Honda after the driver sped through a red light. Officers checked the driver's license plate, which showed the car's registration had been canceled.
When officers walked up to the car, it sped away and drove through two more red lights, ultimately slamming into the cruiser that had Garten and Kearney inside.
The driver of the car, 18-year-old Richard Barrington, was treated at the hospital for injuries before being arrested, police said.
He was charged with failure to obey a traffic control signal, failure to renew registration, misuse of plates and interfering with police.
Barrington is a student in 11th grade with no criminal cases on file.
A procession of officers transported the body of the fallen officer from the hospital to the medical examiner's office Thursday morning.
"[Bobby] was an amazing person who exemplified what it means to be a Hartford police officer. His commitment to serve was above reproach," Thody said. "Our HPD family has come together to support Bobby's family, honor his memory, and do what he would want us to do, protect and serve the Hartford community."
Thody said state police are investigating the crash.
Copyright 2023 WFSB via Gray Media Group, Inc. All rights reserved. The Associated Press contributed to this report.