Couple reunited with cat 26 days after home collapsed into river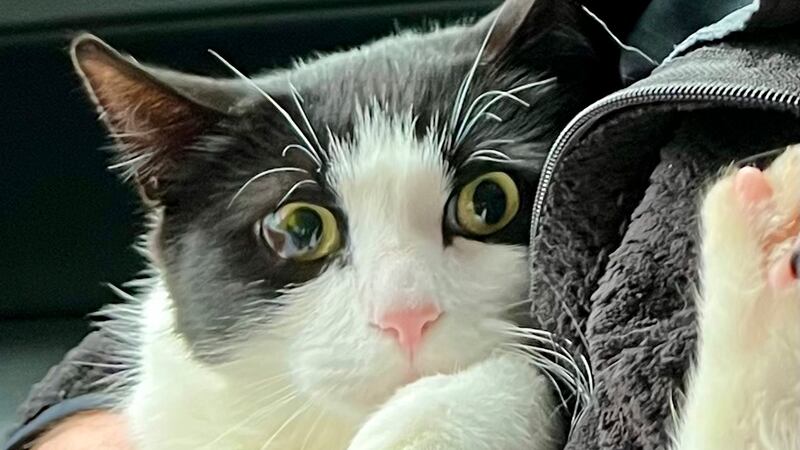 Published: Sep. 6, 2023 at 11:48 AM EDT
ANCHORAGE, Alaska (KTUU/Gray News) - A pair of Alaska teachers needed good news after they lost nearly all their possessions when their house collapsed into a river swollen by a glacial outburst flood and their cat went missing.
"He's not afraid of bears, but he is respectful of them," owner Elizabeth Wilkins said. "He is definitely scared of big birds."
When Leo went missing, Wilkins said she had faith her cat would be fine.
On Aug. 5, the house Wilkins and her partner Tom Schwartz were renting crumbled into the Mendenhall River in a record-breaking flood.
The pair was on vacation in Oregon at the time and had arranged to have a friend come by to take care of Leo.
According to Wilkins, a neighbor told that friend they saw Leo run off just after the house collapsed.
When she returned from Oregon, Leo still hadn't come out of the nearby woods. But Wilkins said she never lost hope, returning every night to the site where their house once stood to leave food for her cat.
"I think what's hard about this was that there was no house for him to come back to, so that was what made finding him really challenging," Wilkins said.
Finally, 26 days after the flood, a neighbor posted a picture of Leo on their community Facebook page.
"I just started walking down the street calling for him, and he just ran out and was like, 'Oh hey, here I am, you know, like, where have you been?'" Wilkins said.
She said Leo looked to be in good health and only lost a little bit of weight.
"That first night, he ate like four cans of tuna. Then he went outside and killed a mouse," Wilkins said.
She said it is amazing to have Leo back, though he currently is staying with a friend while they look for another place to live.
Copyright 2023 KTUU via Gray Media Group, Inc. All rights reserved. The Associated Press contributed to this report.