EACS staff member pushing for transparency after student threatens teacher, brings airsoft gun to school
EACS officials refuse to answer follow-up questions from 21Investigates
Published: May. 9, 2023 at 5:15 PM EDT
FORT WAYNE, Ind. (WPTA) - A student at East Allen County Schools brought an airsoft gun to school. That much EACS school officials confirm with 21Investigates, but a source tells us there's more to the story.
EACS officials say the airsoft gun was confiscated at Prince Chapman Academy on Paulding Road Wednesday, May 3.
A source within the school reached out to 21Investigates to express concern the district wasn't telling the whole story.
"The student made a direct threat to kill a teacher by shooting them in the head," the staff member said. "And then was allowed to return to school the very next day on Tuesday, May 2nd, and then brought the airsoft gun on Wednesday, May 3rd."
21Investigates asked Kelly several follow-up questions including:
Did the student who brought the airsoft gun to school threaten a teacher earlier in the week?

And did the district or school administration send a letter or email to parents telling them about the incident?
District officials told 21Investigtes, "No additional information will be provided about this student issue."
But our source is concerned this goes beyond a single "student issue." The staff member tells 21Investigates, "Administrators repeatedly brush situations under the rug in this building, but it stops here, and they should be held accountable."
Friday, school administrators sent an email to staff members announcing there would be a staff meeting to address safety concerns Monday morning. 21Investigates has obtained audio from that meeting.
In the audio, an administrator can be heard addressing the staff.
"We wanted to come out and talk with everyone today regarding concerns that were sent to the media," the administrator said. "And I'm just going to throw it out there because that's what happened. We did have a couple of incidents that took place in the building last week."
The administrator goes on to say, "Are they scary things to think about happening? Absolutely. The district has threat protocols, threat assessment protocols, that we follow."
The administrator then explains that process, saying a team of people decides what information needs to be released and to whom.
The district's safety manager explained further, "Sometimes we have the conversation on... let's just keep this here, it was not a threat. Communicating that out might actually create more excitement than what was necessary for the situation."
21Investigates has reached out to Kelly several times, offering an opportunity to the superintendent to sit down with us to talk about concerns from staff members.
The invitation still stands.
Officials, both at EACS and elsewhere, have provided more information about similar incidents in the past.
Here are two examples:
In 2018, the staff at Heritage High School in the EACS district alerted parents to the fact that "an air-soft BB gun was confiscated, and the student (was) turned over to law enforcement." That notice was given on the same day of the incident.
Just this year, the Huntington County Community School Corporation addressed a situation involving a Riverside Middle School student in March.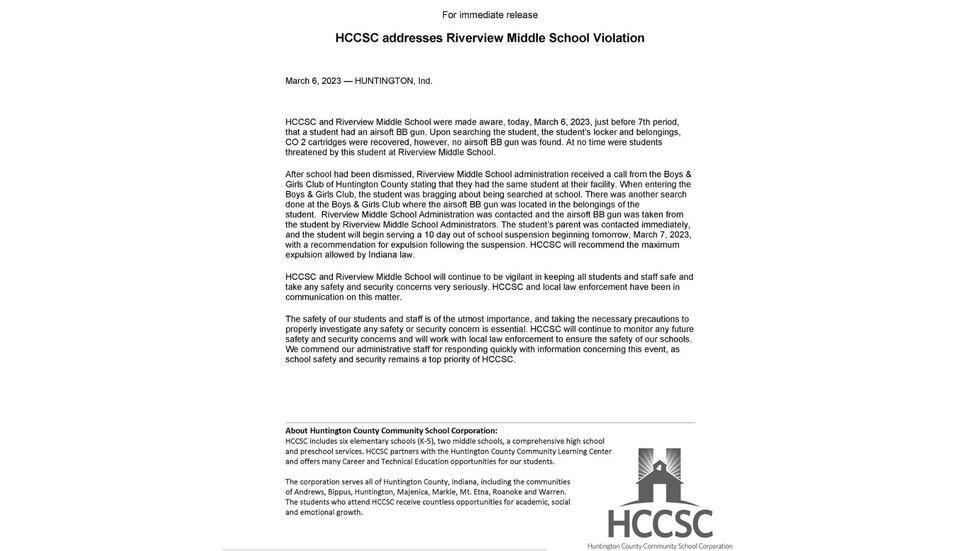 Copyright 2023 WPTA. All rights reserved.