A look at key bills signed into law by Indiana's governor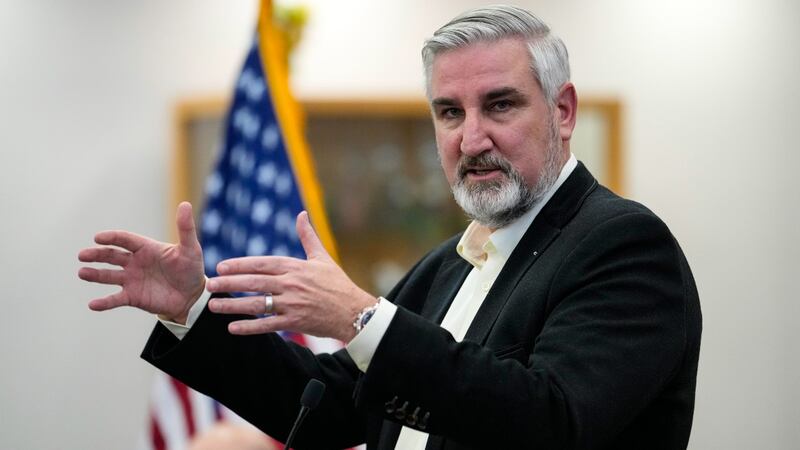 Published: May. 4, 2023 at 4:37 PM EDT
INDIANAPOLIS (AP) — Indiana Gov. Eric Holcomb has completed his review of bills approved during this year's legislative session by signing the last of them into law on Thursday and issuing no vetoes. Here are some key measures the governor signed in the final batch:
STATE BUDGET
The new two-year $44.6 billion budget cleared the Republican-dominated Legislature in near-party line votes last week. It includes a broad expansion of eligibility for the state's private school voucher plan that will take up more than $500 million of the $1.5 billion increase in K-12 funding. That will leave traditional public school districts with a projected 5.4% boost next school year and 1.3% the following year.
PUBLIC HEALTH EXPANSION
The state will have $225 million in the next two years to help counties expand public health services with the aim of improving Indiana's poor national rankings in areas such as obesity, smoking and life expectancy and upgrading local emergency services. Legislators approved about two-thirds of the money Holcomb had sought for the program as it faced some public opposition over distrust of health officials following the COVID-19 pandemic.
TEACHER GUN TRAINING
A state-funded handgun training program will be available for teachers who seek to be armed while at their schools. School boards may already permit teachers to have weapons and bill supporters say the 40 hours of optional training will help them be better prepared in any active shooter situations. Critics argued having additional guns in schools could worsen safety.
TEACHER DISCUSSIONS
Republicans pushed to eliminate a requirement that school administrators discuss issues such as curriculum, student discipline, school safety and class sizes with teacher union representatives. Bill sponsors called it a "deregulation" measure, while teacher union leaders said it was a "brazen act of disregard" for classroom educators.
ESG INVESTMENT
The new law aims at preventing leaders of the state's pension funds for teachers and other government workers from investing any of their some $45 billion with firms that consider environmental, social and governance principles. So-called ESG investment strategies have become the target of Republican lawmakers across the country who argue they are focused more on pushing political agendas rather than earning the best returns. The Indiana pension fund board has said it hasn't followed such ESG strategies.
21ST CENTURY SCHOLARS
Middle school students will be automatically enrolled in the state's 21st Century Scholars program that provides full tuition at Indiana's public colleges for those from low-income families. Advocates for automatic enrollment said many eligible students missed the enrollment deadline, hurting their chances of attending college. Students may opt out of the program, which requires students to maintain good grades and stay out of trouble through high school to obtain the scholarships.
Copyright 2023 WPTA. All rights reserved.