Sgt. who hit, killed pedestrian previously suspended for crash, FWPD says
Published: Apr. 24, 2023 at 2:58 PM EDT
FORT WAYNE, Ind. (WPTA) - The Fort Wayne Police Department (FWPD) released the disciplinary history of the officer who they say hit and killed a pedestrian in downtown Fort Wayne on Wednesday, showing he has been in four other crashes while working.
Police documents say Sergeant Joshua Hartup, 46, was involved in four crashes while driving a police vehicle in 2005, 2007, 2000, and most recently in 2019. Hartup was suspended for the crash in 2007 and given letters of reprimand for the others.
The documents also list Sgt. Hartup's seven commendations, including two letters of commendation in 2017 and 2022, two awards of excellence in 2001 and 2021, and three community service citations in 2019 and 2022 (2).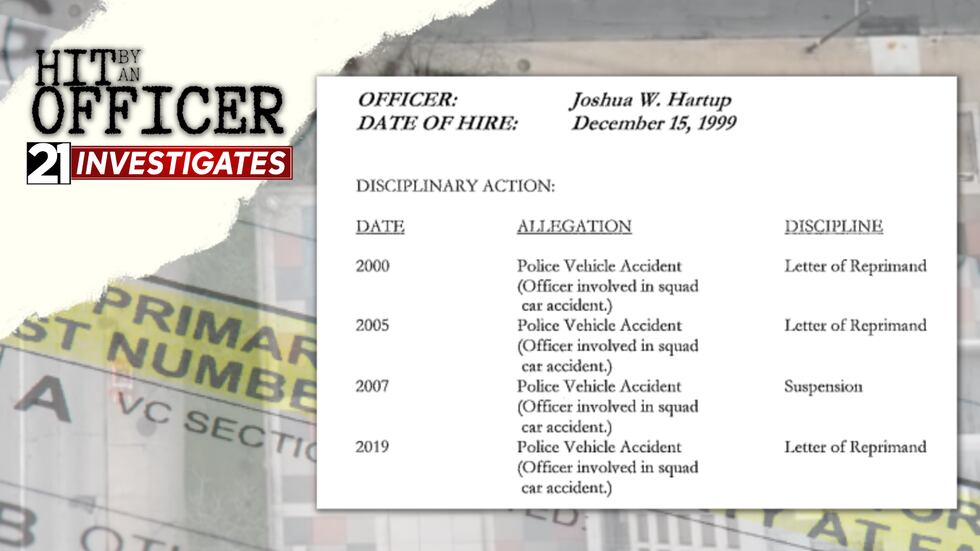 Indiana State Police say they are investigating the crash and reviewing all evidence in the case and working with the Fort Wayne Police Department.
BACKGROUND: FWPD Sgt. who police say hit pedestrian gives statement in amended crash report - FWPD responds after officer crashes into, critically injures pedestrian
FWPD says the crash happened around 7:30 p.m. Wednesday, April 19, at the intersection of E Main and S Calhoun Streets. The crash report says Sgt. Hartup was driving a police-issued GMC Sierra when he crashed into Henry Najdeski, 52, who later died.
Sgt. Hartup has returned to work since the crash, according to FWPD. They say any charges and citations against him and whether or not he was on his cell phone at the time of the crash will not be known until the investigation is complete.
On Friday, 21Investigates submitted several public records requests to FWPD. One of those was the disciplinary record for Sgt. Hartup. Other requests included body cam and dash cam footage and a copy of the police report regarding the crash.
Copyright 2023 WPTA. All rights reserved.