SACS announces "path forward" following Blackface controversy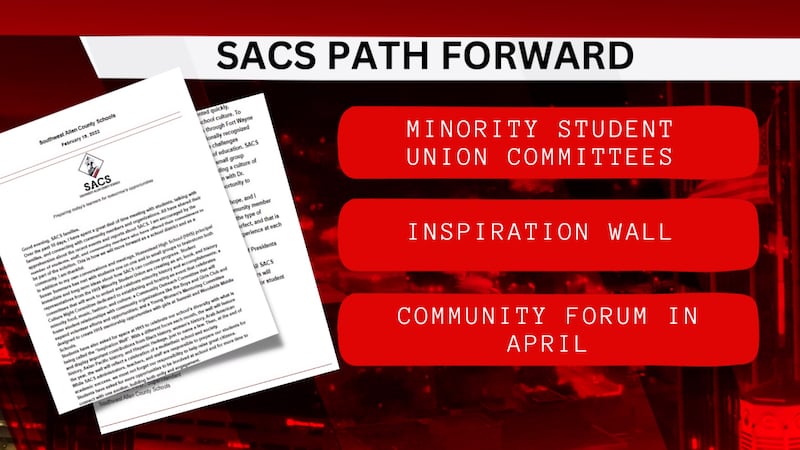 Published: Feb. 20, 2023 at 3:06 PM EST
FORT WAYNE, Ind. (WPTA) - Leaders with Southwest Allen County Schools (SACS) have announced a "path forward" 10 days after a viral photo of a student in Blackface caused protests at Homestead High School (HHS).
Students involved in those protests held on Feb. 9 focused the need for a more inclusive school environment.
BACKGROUND: SACS Superintendent discusses how to stop racism in school - SACS parents, students organize meeting to discuss Blackface controversy - Homestead parents and students hold demonstration - Protest held at Homestead regarding offensive social media post depicting blackface
SACS Superintendent Park Ginder sent a letter to the families in the district on Sunday, Feb. 19, to address how the school will move forward.
In the letter, Ginder says the protests have led to conversations to come up with solutions to students' concerns about racism. The path forward, he says, includes a number of initiatives by members of the HHS Minority Student Union.
They will host a culture night, work to celebrate minority history and work with outside groups like the Boys and Girls Club. Students will also create an "inspiration wall" that will have a different feature each month, the letter says.
SACS will also host a community forum in April. You can read the full letter below.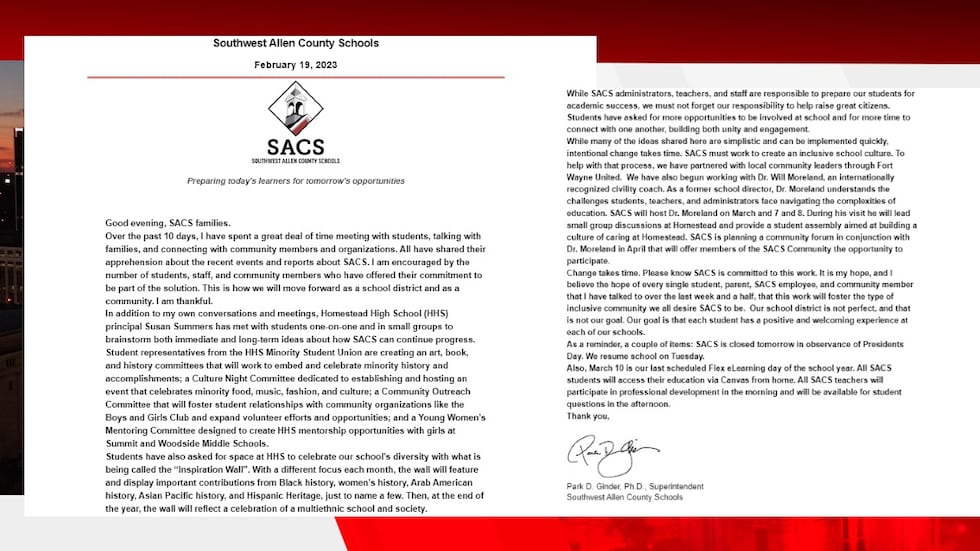 Last week, 21Alive told you the district is bringing in Diversity Coach Dr. Will Moreland. He will be in Fort Wayne on March 7 and 8—when he'll lead small group discussions and host a student assembly.
Copyright 2023 WPTA. All rights reserved.