Can't get a new car? Neither can police.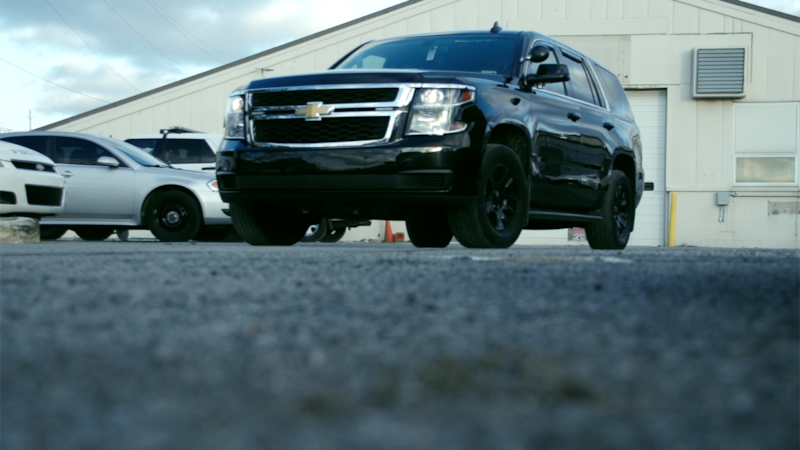 Published: Feb. 15, 2023 at 9:49 PM EST
FORT WAYNE, Ind. (WPTA) - Walk onto a car dealer's lot and you'll likely hear about low inventory caused by a struggling supply chain. Many buyers wait weeks or months to take deliveries of their new cars. Some automakers will no longer allow customers to order their cars online. What they see on the lot is what they can get. Police have the same problem.
In the Fort Wayne maintenance garage, Marty Bender sat on a shop stool next to an unmarked Chevy Tahoe and sighed. His police badge reflected light from the humming fluorescent tubes above. He was surrounded by patrol cars in various states of repair. He seemed exasperated.
"I still have cars from 2021 that I have not received yet," he said. "I've been told not to expect any in 2024 either."
Bender is a veteran officer in charge of Fort Wayne PD's fleet. He manages hundreds of cars, trucks and vans. The patrol cars are run ragged over years of service. In his more than 30 years on the force, he can't remember a situation quite like this - when new police cars are difficult if not impossible to find.
Bender explained that parts shortages and a supply chain that is still recovering from pandemic shutdowns are to blame. While he acknowledged that the city has enough patrol cars at the moment, the supply will soon begin to run out as new police recruits join the force. When that happens, he said, the department will have fewer cars to issue and to use as spares.
The problem is not unique to Fort Wayne. Police departments in Auburn and Adams County have both told 21Alive about long wait times for replacement vehicles.
Across the country, nearly every department is struggling with the same issue, explained Jason Bennett of the North Carolina Sheriff's Association. Bennett is a vehicle procurement consultant who helps departments across the country source patrol cars.
"I get contacted by sheriffs asking What is going on? Why am I not being able to receive my vehicles? Why can't I order my vehicles? Why am I ordering vehicles and having them canceled six, eight months later? And I said, well, unfortunately I don't have any good news for you," explained Bennett.
Police vehicles take more punishment than consumer-grade cars. While they are built to different specifications to take the punishment, the vehicles still idle more than civilian cars (to keep radios and other electronics running.) They also accumulate more miles quicker than civilian vehicles, with transmissions and suspension systems that are forced to absorb the effects of car chases, extreme weather and off-road travel. Rural police agencies commonly lose vehicles to deer strikes.
Constrained by supply shortages, police agencies are forced to keep older vehicles with high miles and worn parts on the road as they wait for replacements. Bennett acknowledges that can be a risk for the officers who drive those cars. It's also an issue for taxpayers and local governments. Older cars are expensive to maintain. That means agencies are forced to pay more money for repairs. When new vehicles do become available, they often cost more than police departments anticipated. That can mean approaching city or county leaders with hat-in-hand.
"A lot of agencies have had to work with their county commissioners and their councils because they've really allocated money for the 2022 pursuit vehicles. Now it's been canceled because the vehicle manufacturers can't keep up," explained Bennett. "Then the vehicle manufacturers are saying if you need cars, you have to order the model year '23 at a bigger price, and sometimes that's five to $7,000 more per vehicle. So then the sheriffs have to go back to their county commissioners. The police chiefs have to go to their cities and say, we need vehicles."
For police in Fort Wayne, there's no end in sight to the supply crunch. Marty Benders said his department has enough cars for now, but as more officers join the force and cars wear out, Marty Bender fears the department may have to make tough decisions about resource allocation in the months ahead.
"Do we start putting one or two guys in a in a vehicle and cut down on the number of cars on the street? I don't really want to do that. It takes a car off the street. When you normally have five cars in a district, you may only have three."
Copyright 2023 WPTA. All rights reserved.