Proposals limiting right to bail, home detention advance to Senate chamber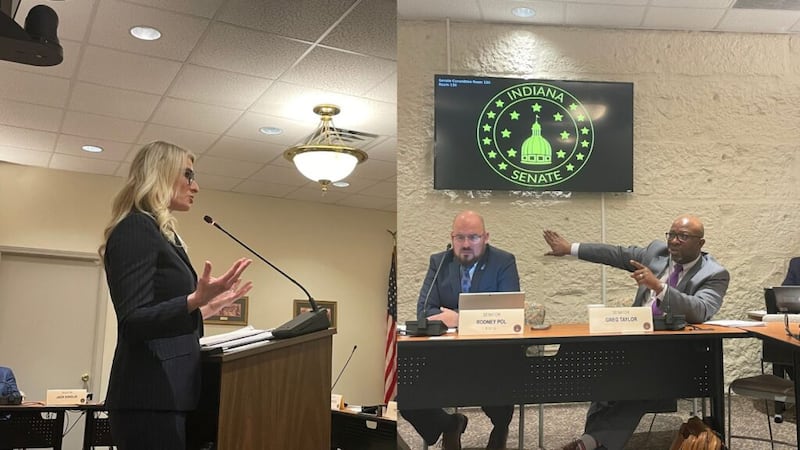 Published: Jan. 18, 2023 at 4:35 PM EST
INDIANAPOLIS, Ind. (Indiana Capital Chronicle) - Indiana lawmakers went tough on crime Tuesday when a committee advanced a constitutional change restricting the right to bail and moved a less controversial bill barring people with more severe convictions from participating in community corrections programs.
Under Indiana's current Constitution, only people accused of murder or treason can't get bail, as long as "the proof is evident, or the presumption strong." Sen. Eric Koch's Senate Joint Resolution 1 would edit that document to let judges deny bail anyone they deem "a substantial risk to the public," and at the same standard of proof.
Prosecutors have said SJR 1 would keep dangerous people off the streets before trial, while critics say it's too vague and subjective to protect those presumed innocent until convicted.
On Tuesday, Democrat Sen. Greg Taylor, of Indianapolis, argued the burden of proof should be more stringent — with evident proof and strong presumption being on the lower end of the scale — while supporters like Sen. Liz Brown, R-Ft. Wayne, said that's the standard already enshrined within the Constitution.
Opposition
Indiana Public Defender Council Executive Director Bernice Corley and attorney Mike Cunningham told lawmakers that SJR 1 should better define what the "substantial risk" is, pointedly giving examples like communicable disease versus emotional distress or physical danger.
Corley also argued that states with similar bail-limiting language on the books typically have presumptive release, when incarcerated people are by default released when they're first eligible for parole — unless a parole board finds specific reasons not to release them.
"There's two sides of this coin, always," she said about the right to bail. And she warned that passing SJR 1 could "upheave" Indiana's case law.
Courtney Curtis, the Indiana Prosecuting Attorneys Council assistant executive director, said "adding a couple of words" would not require the state to start over.
She described a spectrum with the rights of defendants and public safety on either end, adding that states are "trying to find where's that happy medium."
Koch, meanwhile, said there are already built-in checks on the right to bail: defendants can appeal bail decisions, and can seek review from higher courts.
The nine-member Senate Corrections and Criminal Law Committee approved SJR 1 with a 5-3 vote, sending it to the full Senate Chamber. It nearly passed along party lines: the group's two Democrats voted against it, but so did Ranking Majority Member Susan Glick, R-LaGrange.
"I believe the language in this resolution should be void for vagueness," Glick said.
"… What we're attempting to do is keep the very most dangerous individuals in jail indefinitely. I understand that," Glick continued. "But I believe that the language here will allow it to be applied to a lot of other people for a lot of other reasons."
Koch's planning to keep SJR 1′s wording the same, for now.
"I'm a listener. I try to keep an open mind. I thought the discussion today was was very helpful," Koch told the Capital Chronicle after the committee adjourned. "But as of now, I have no plans to change it. But, this is just the beginning of what is, and should be, a long process."
Serving a sentence out at home
The committee also unanimously advanced an amended bill altering community corrections programming, which is meant to divert felony convicts from incarceration and serve as an intermediate level of penalty between jail and probation, according to the Indiana Department of Correction.
Programming includes residential centers, work release, home detention and electronic monitoring.
Senate Bill 179 — also authored by Koch — would bar people convicted of level one felonies from participating in the programs, as well as those with certain extra penalties on their convictions.
But it would expand the program as an alternative to county jail, rather than just to the Department of Correction, and allow people on work release to earn accrued time just like those in home detention.
Though the prosecutors and defenders judicial agencies are typically on opposite ends of criminal justice bills, Koch said both groups had workshopped the bill and supported it.
An amendment, which wasn't available online, would crack down on home detention escape without also ratcheting up consequences for smaller violations, committee chair Aaron Freeman, R-Indianapolis, said.
Copyright 2023 WPTA. All rights reserved.