Indiana lawmakers say they're unlikely to pass new abortion legislation in 2023
The state's highest court is still weighing Indiana's near-total abortion ban enacted in August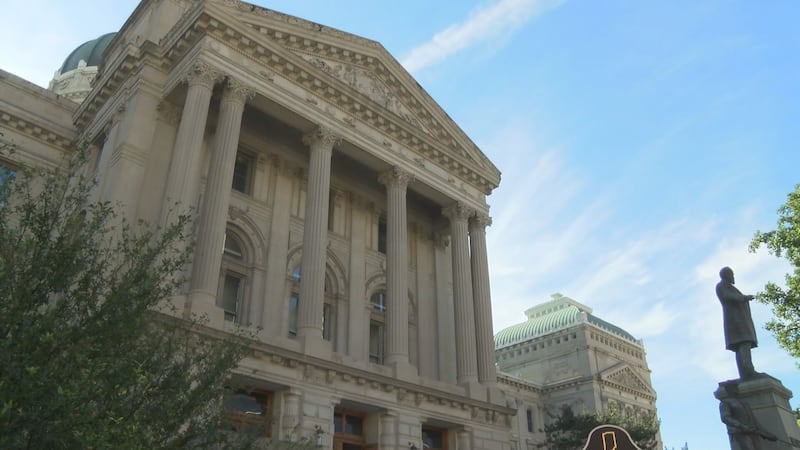 Published: Jan. 4, 2023 at 3:29 PM EST
INDIANAPOLIS, Ind. (Indiana Capital Chronicle) - Indiana's top Republican lawmakers say they're holding off on new abortion legislation in the 2023 legislative session — at least for now. But the future is less clear on tangential issues of mail-order abortion pills and contraception.
The state's current ban is in the hands of the Indiana Supreme Court, where justices will hear arguments in a challenge to the abortion ban later this month.
The Republican-dominated Indiana General Assembly advanced a near-total abortion ban during a heated, two-week special session that concluded in August. That made Indiana the first state in the nation to approve such legislation since the high court ruling that overturned Roe v. Wade.
Although the law took effect in September, a temporary injunction has put Indiana's new abortion ban on hold. Under that injunction, the state's previous abortion law stands — allowing abortions up to 20 weeks.
But until the state's high court issues a decision, Indiana lawmakers are holding off on new bills that could further modify the law or muck up ongoing litigation. GOP leaders have additionally maintained that they don't plan to push legislation restricting contraception.
House Speaker Todd Huston said the next state budget — not "social issues" — is the primary focus in the upcoming session.
Senate President Pro Tem Rodric Bray said he also doesn't anticipate advancing new abortion-restricting measures in 2023.
"We've got a Supreme Court that's taking a look at that issue," Bray told reporters in November. "It wouldn't be wise at all for us to take a crack at any changes right now until we know what that ruling's going to be."
Indiana Gov. Eric Holcomb said, too, that he's waiting for more "clarity" from the Indiana Supreme Court before he takes more action on abortion access, noting that he won't "rush" that process.
A delayed push for new restrictions?
Debate over abortion restrictions during the special session drew harsh pushback from Democratic lawmakers and sparked divisions within the Republican Caucus.
Multiple GOP lawmakers in both chambers rejected an amendment that was carved into the ban to allow abortion in some cases of rape or incest. A handful of Republicans opposed the bill altogether.
Even after Holcomb signed the bill into law, many conservative lawmakers and anti-abortion advocates remain unhappy with the provisions. Most of the contention continues to surround exceptions.
Some Indiana lawmakers indicated last fall their plans to work to remove those exceptions in the future.
But even if the ban is allowed to take effect again, pro-abortion rights groups say women can still turn to at-home medication abortions.
Mail-order abortion pills containing mifepristone and misoprostol are FDA approved for abortion and other uses.
As written, the new law makes self-managed medication abortions illegal, but not always criminal. That means women can buy abortion pills online via doctors that are based out of state or abroad.
Indiana law requires a person to have a valid prescription for those drugs — possessing them without a valid prescription is a Level 6 felony — but the new law doesn't create penalties for women who get an illegal abortion.
The abortion ban makes it illegal for physicians to prescribe such pills outside of the permitted exceptions, however. Doctors also are not allowed to use telehealth services to provide medical abortion drugs.
Still, other states are seeking to enact protections for doctors that could shield them from penalties if they virtually prescribe Indiana women the drugs.
It's not yet clear if Indiana lawmakers will take up the abortion pill issue, or if they will eventually try to criminalize women seeking an illegal abortion.
A majority of Hoosiers, on the other hand, say abortion should be legal in at least some cases.
In statewide polling conducted last fall, more than half of survey respondents said they believe abortion should be legal in all or most cases. The report also showed overwhelming support for exceptions to allow abortion when the women's life is at risk or the pregnancy is the result of rape or incest.
What happens next
The Indiana Supreme Court took jurisdiction of a lawsuit over the state's near-total abortion ban following a request by Republican Attorney General Todd Rokita to bypass the Indiana Court of Appeals.
The court challenge up for debate was originally filed in Monroe County Circuit Court in August by the American Civil Liberties Union (ACLU) of Indiana on behalf of health care providers and a pregnancy resource center.
A special judge in Owen County previously ruled that the ban likely violates the Indiana Constitution. An injunction issued by Judge Kelsey Blake Hanlon, a Republican, halted the state's new abortion law one week after it took effect in September. Under the injunction, the state's previous abortion law stands — allowing abortions up to 20 weeks.
The state quickly appealed that decision and asked the Indiana Supreme Court to bypass the Court of Appeals and take the case directly.
An oral argument is set for Jan. 19.
If the justices rule in favor of the ban, all abortions would be allowed except in the case of a fatal fetal anomaly and cases of serious health risk to the mother. One part of the law says these exceptions are up to 20 weeks but another part says they can be used anytime. Rape survivors can get an abortion up to 10 weeks post-fertilization. It also strips abortion clinics of their state medical licenses, and provides that only hospitals and hospital-owned ambulatory surgical centers can provide abortions.
Copyright 2023 WPTA. All rights reserved.