Fort Wayne Philharmonic musicians go on strike amid contract negotiations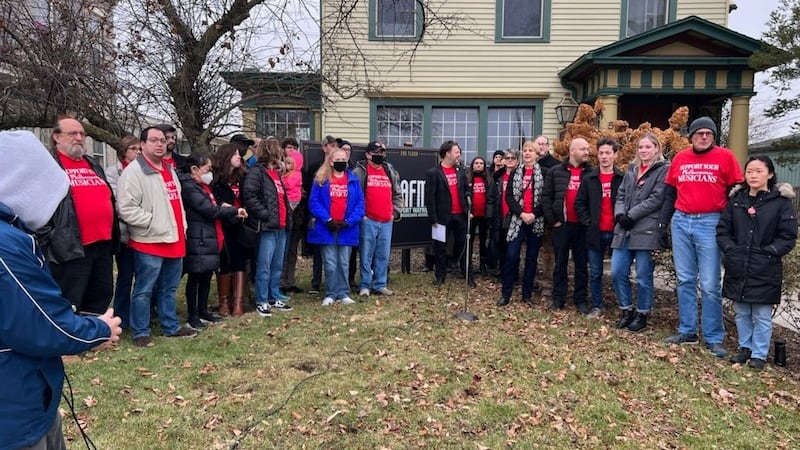 Published: Dec. 8, 2022 at 11:10 AM EST
FORT WAYNE, Ind. (WPTA) - Members of the Fort Wayne Philharmonic Players' Association, American Federation of Musicians Local 58, says the musicians are now on strike after they failed to reach "fair terms" with the board for a new contract.
Fort Wayne Philharmonic Players' Association Chairperson Campbell MacDonald says players have met with management several times amid negotiations and have agreed to a number of their proposals. However, he says after fewer concerts and cuts to musicians' wages during the pandemic, he says management is continuing to offer "unacceptable rates of pay".
The players have been performing under an expired contract since Sept. 1, MacDonald says. During a press conference Thursday morning, MacDonald said players were prepared to strike if both sides could not reach an agreement on wages. Later that day, he says management has "yet to propose pay that allows us to afford basic needs, and is married to the elimination of full-time positions."
Philharmonic management sent a response to media, saying the musicians' union is demanding a 46 percent wage increase, which Philharmonic President and CEO Brittany Hall says is "unreasonable and could never be sustained."
"We are deeply disappointed to learn about the union's intention to strike if there is no agreement today," Hall said. "We have negotiated in good faith since August, and our hope is to collaborate with the musicians and reach a new agreement that will be a foundation for the long-term future of the Philharmonic and its important role in the community."
Halls says the union has agreed to bring in a mediator in light of the strike. MacDonald says the next negotiation meeting between the two groups is scheduled for Monday, Dec. 12.
The group was set to perform at the Holiday Pops event the evening of Friday, Dec. 9, with several more performances scheduled throughout the month.
Copyright 2022 WPTA. All rights reserved.