TRAA paramedic pay increase: will it be enough?
Published: Aug. 30, 2022 at 5:50 PM EDT
FORT WAYNE, Ind. (WPTA) - Three Rivers Ambulance Authority paramedics say they have been overworked and underpaid for far too long. Officials with the authority are taking steps hoping to make that change.
Phil Nicolet has been a TRAA paramedic for 27 years. He's also the president of the Local 525 International Associate of EMT's and Paramedics union. He says he's been fighting for better wages for paramedics. He says he knows the strain of the industry all too well and what it's like to work under the staffing shortages.
"We've been over worked and underpaid for too long," Nicolet said. "We haven't talked about a strike or anything before we care about the people who are in Fort Wayne."
Nicolet says a raise for the paramedics has been long overdue, but they are welcoming the proposal.
The TRAA board is proposing a $5 wage increase for all paramedics, increasing the starting wage to $24/hour instead of $19/hour. They'll be voting on the pay increase proposal Wednesday in a meeting at 9a.m. at the authority.
TRAA Executive Director Joel Benz says the board recently parted ways with the authority's contractor. He says that gives more power for them to make changes, like increasing pay for the paramedics. Benz says he's hopeful for the future.
"The industry itself has been chronically underpaid," Benz said. "It removes a layer, now we can really get int there and make a difference. Before we had to make negotiation with the contractor and the union."
Benz did some research himself to get to that pay increase number. Here's a look at the comparison to other ambulance providers in our area.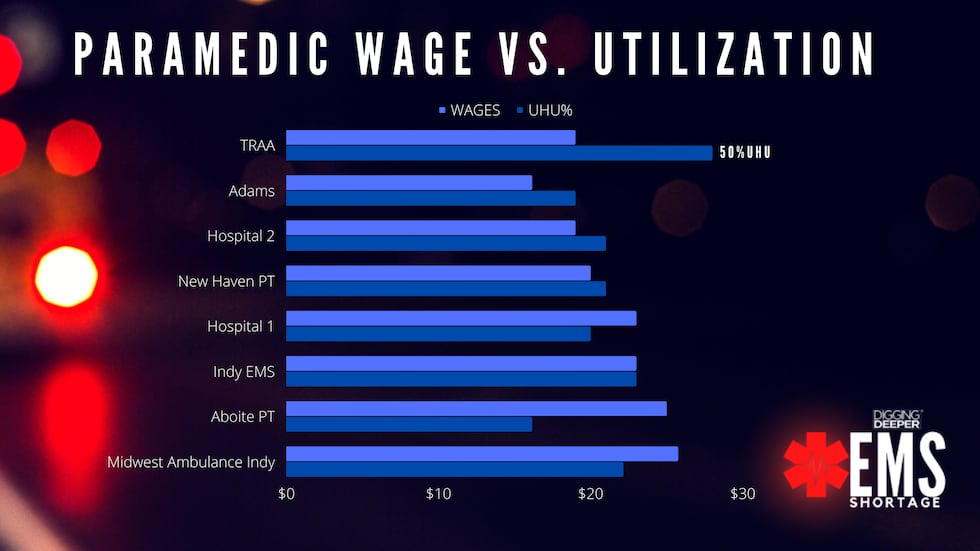 He says TRAA paramedics are making significantly less than the surrounding providers. The wages don't include what's called the "Unit Hour Utilization" which is the percent of time the paramedics are actually out responding to a call. Benz says TRAA paramedics are busier than most.
He says increasing the pay by $5 you can start to see a more even comparison. You can see the updated numbers below:
Benz says he believes it will be enough to keep more workers overall based on his research.
For Nicolet, he says it's a step in the right direction but he's cautiously hopeful. He says he believes it will help recruit and retain more paramedics in the long run, but he hopes it will be enough.
Copyright 2022 WPTA. All rights reserved.