21Country: 150 years in Geneva, Land of the Limberlost
Adams County town preparing for sesquicentennial celebration
Updated: Aug. 11, 2022 at 8:00 AM EDT
GENEVA, Ind. (WPTA21) - Drive thirty-eight miles south of Fort Wayne on U.S. 27, and you'll pass through a quaint town filled with charm. But even if you haven't heard of Geneva, it has an impressive, rich history. And the community is preparing to celebrate exactly that — everything dating back to the town's origin 150 years ago. Two days of family-friendly activities are planned as Geneva reaches it's sesquicentennial milestone.
Town Council President Agnes Schoch is passionate about keeping the Adams County community thriving. "I've lived in Geneva for 46 years — Geneva being a small town is wonderful. People know each other, and people help each other," she described. "We have a large amish community… they add to the history and flavor of who we are with the town, and we very much enjoy the camaraderie."
Laura Schwartz grew up in the area. Now, she's a librarian at the local library — and one of the most knowledgeable about the town's history. "Geneva was established in 1872. It was originally three towns — it was Alexandria, Buffalo, and the Limberlost," she explained. The year prior, a railroad station was built between those communities, and named 'Geneva'. "In 1872, the three separate towns came together," Schwartz continued. "In 1895, there was a fire that destroyed the downtown. After that fire, they set up an ordinance that downtown buildings must be built in brick, instead of wood."
Before the year even ended, 24 new brick business buildings were already re-built downtown, and they remain standing today. Because they are all constructed concurrently along East Line Street, it earned Geneva a place on the National Register of Historic Places in 2002.
Two interesting artifacts found in City Hall include World War I era washing machine manufactured in Geneva, and a motorized mail carrier. "We're known as bird town #1," Randy Lehman shared. He too, knows quite a bit about Geneva's history, and currently serves as the Chamber of Commerce Treasurer. "If you're a spot where birders like to go, you can apply for this status through the Indiana Audubon status. We were the first community to apply to get that designation."
"There used to be a lot of covered bridges that went over our state river, and now there's just one left: the Ceylon covered bridge," he also said. The historic bridge was built over the Wabash River in 1860. It's a favorite part of the community, and will host several events during Geneva's sesquicentennial celebration. "The other thing the town is know for is the Limberlost Swamp. It was all around here."
The Limberlost State Historic Site is located just off of U.S. 27. "If you've never heard of the town of Geneva or Gene Stratton Porter, there's a good chance you've heard the name Limberlost somewhere," site manager Shaun Payne exclaimed. "Gene made that name famous everywhere with her books." Just by coincidence, the famous author, who was born in Wabash, bears the name 'Geneva', though she's more commonly known by her nickname Gene. Her home of 18 years has been preserved, and open to the public to tour. At the time, there were 13,000 acres of forest and swamp around it, which inspired six novels and seven nature books. After the swamp was drained in 1913, she moved her other home in Rome City.
Entering downtown, a large Limberlost mural decorates the City Hall building. Covered by bushes in Memorial Park, is a shallow plaque that reads: Time capsule. Buried in conjunction with Geneva are centennial, August 13-19, 1972. To be opened in 2022 by governing Council of Geneva. Many will be surprised by what's inside. "I think we will find some letters and some coins, that actually — my grandparents put in for my father and his siblings," Schwartz told us. Her family was present for the town's centennial five decades ago. "I personally know that those things are in there. Other than that, we really don't know what to expect."
Organizers are collecting items from 2022, to be buried in a new time capsule for the town's bicentennial fifty years from now. "We're very excited to see what the town can pull together," she continued. "The things that have been donated are some family histories of local residents, and businesses have donated their histories — especially family businesses that have been here for generations." On the same topic, Schoch told us, "In fifty years, I won't be here any more, but the people beyond me — my children, and grandchildren, and with anyone else in our town — will be able to see what is buried and what was popular during these years."
And for her, as a town leader, Schoch says they're excited to celebrate Geneva's past, but thoughts of it's future lingers. "Looking forward… we are listening and looking for, how do we grow?" she said. "What kind of things can we offer? What's out there, that we can improve on?"
"I've lived here since 1999. The more I did here, the more I felt like this is my home," Lehman told us. "One of the things I'm really pleased about with the 150th celebration, is it really brought a lot of people into doing something to celebrate the community."
Payne, a transplant from Georgia, hopes those in Northeast Indiana will visit this weekend. "Geneva may be a small town, but it's an important town," he shared. "Across Indiana, there's a lot of little towns that are celebrating their sesquicentennial, and their centennials, so I think it's an opportunity for people in bigger cities to experience it, and see how other Hoosiers live their lives."
Events are planned all day Friday Aug. 12 and Saturday Aug. 13. From fun and games for kids, to historical hikes and presentations — there's a lot of activities for everyone. A flier of sesquicentennial events is embedded below. You can follow the town's festival Facebook page here for updates.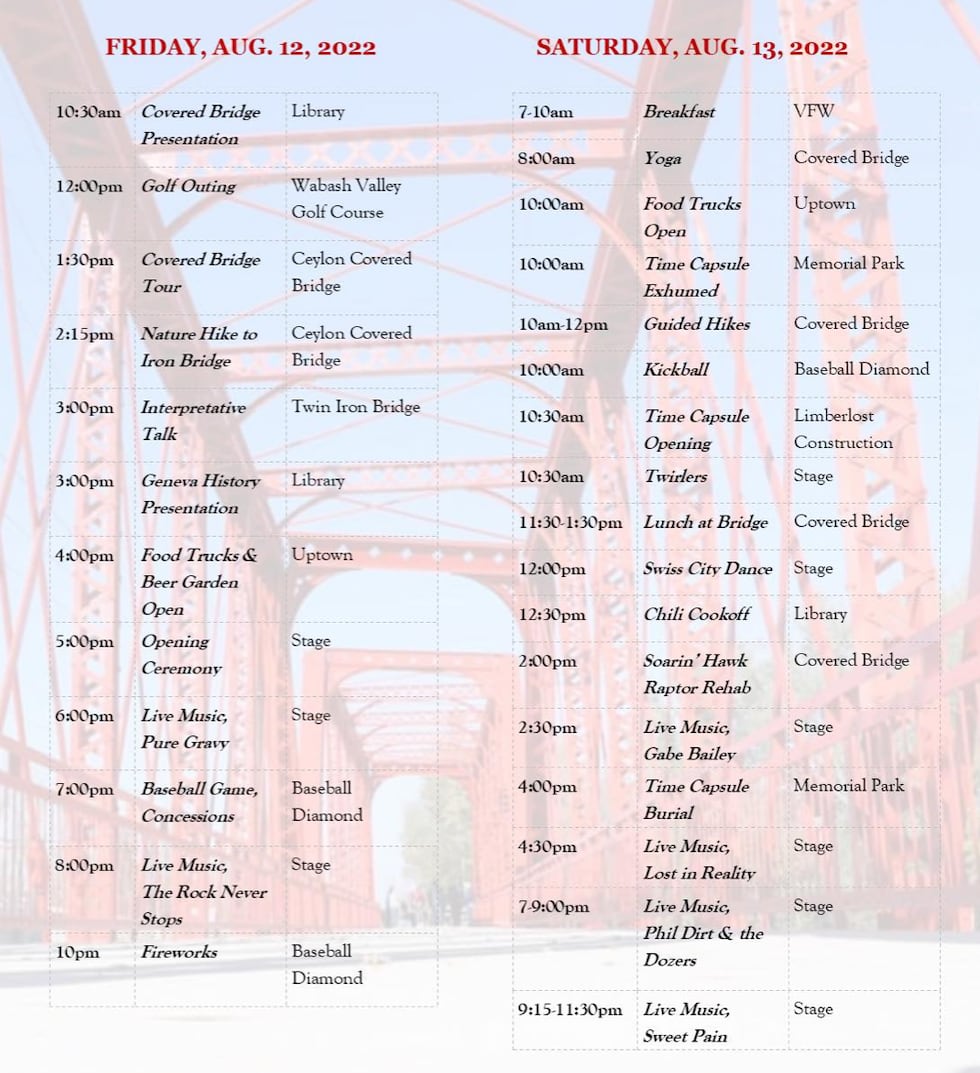 Copyright 2022 WPTA. All rights reserved.