21Country Update: Fort Wayne MASH Club wins top titles at the 2022 Indiana Brewers' Cup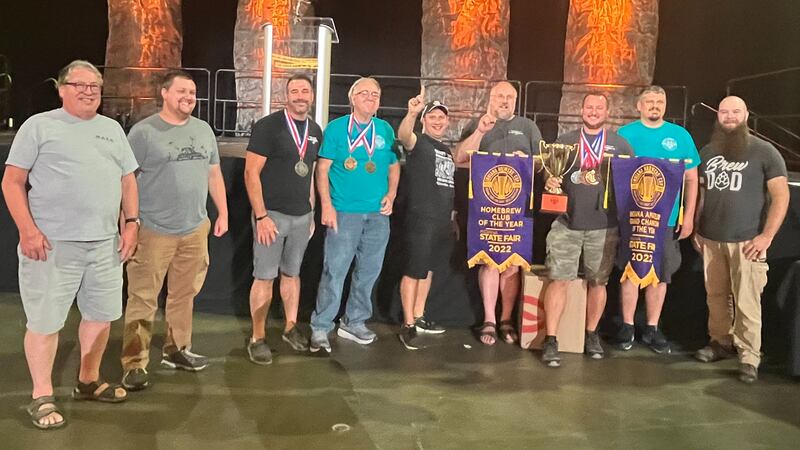 Published: Jul. 9, 2022 at 10:05 PM EDT
INDIANAPOLIS, Ind. (WPTA21) - Craft beer lovers across Indiana gathered at the state fairgrounds Saturday evening to learn the results of the 2022 Indiana Brewers' Cup. The annual competition celebrates the best beer, mead, and ciders in 35 categories between two divisions: amateur and professional.
Earlier this week, we featured several members of the Fort Wayne MASH club in a 21Country segment. The home brewers shared a little bit of science behind their hobby, and why they're so passionate about it. In 2021, Jed Lengerich just fell short of the competition's top individual title. "This year I have 20 total entries: one mead, three ciders, and 17 beers — and all the beers are different styles," he told us earlier this week. "Part of the reason I entered 20 entries, is to try to win Indiana Home Brewer of the Year. Last year, I think I tied for runner-up, by one point." Lengerich's hard work paid off. In addition to several medals, he was awarded the Indiana Amateur Grand Champion of the Year.
Lengerich, alongside other club members Dennis Norman, Paul Moore, Jon Stough, and Dan Wagley scored so well, they were also awarded the coveted Homebrew Club of the Year. Dozens of other beers were submitted by several other Fort Wayne MASH members, including club vice president (and ABC21 meteorologist) Nick Marusiak.
MASH club president Cody Moon did not participate in this year's amateur competition, because he's in the process of opening Science Project Brewing in Logansport. Instead, he hopes to qualify for the professional division at the Indiana Brewers' Cup next year. You can view the amateur results here. Hop River, Junk Ditch, and Mad Anthony Brewing Companies also placed in their division — you can see those results here.
Copyright 2022 WPTA. All rights reserved.