GFL to take over trash collection in Fort Wayne Friday
What will change?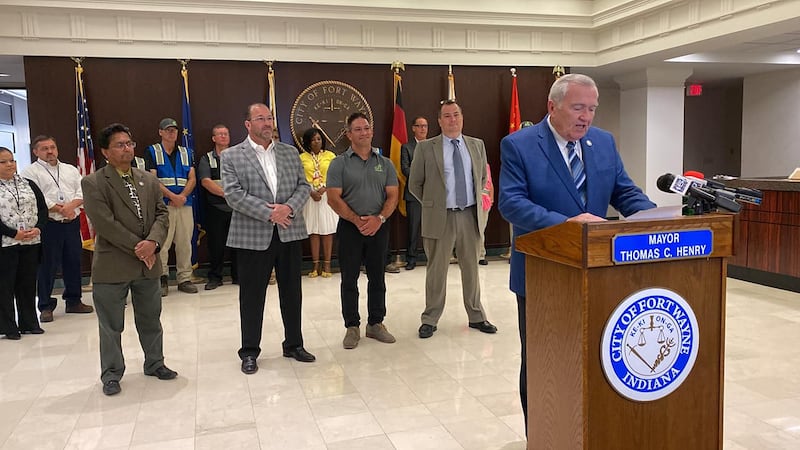 Published: Jun. 28, 2022 at 11:00 AM EDT
FORT WAYNE, Ind. (WPTA) - GFL Environmental USA will officially take over as Fort Wayne's garbage and recycling hauler this Friday following months of collection issues with the current provider.
See all related coverage on GFL here
In a news conference Tuesday afternoon, city and GFL leaders highlighted what customers can expect when GFL's contract starts on Friday, July 1:
There won't be any changes to collection dates or A and B recycling weeks. Residents will continue to use their city-provided bins. Residents will continue to report misses to 311.

There will be a few changes to how the collection process will work commencing Friday. In addition to materials being collected in the city-provided cart, residents may set out three additional plastic garbage bags or yard waste bags. Individual bag weight cannot exceed 35 pounds. Residents who regularly have three or more bags are encouraged to sign up for an additional cart for $2 per month to place additional trash items. This can be done by contacting 311.

Bulk collection will be performed by city crews until a permanent solution is agreed upon between the city administration and City Council. Residents may continue to set out one piece of furniture or non-freon appliance on collection day. Materials will be collected within 48 hours. Also, residents should continue to wrap mattresses and box springs if those items are set out.
As Monday, July 4, is a holiday, officials remind residents that trash and recycling will not be collected that day and collections will run a day behind next week.
"Rates continue to be evaluated," a news release sent by the city says. "We know that we won't be able to continue to charge just $12 per month for all solid waste-related activities that make up the monthly solid waste charge that residents see on their bill. But the city will not set rates that overcharge customers. Our goal is to keep costs as low as possible. A final decision will be made in the coming weeks between the city administration and City Council."
Councilman Russ Jehl is calling for the city to not pay Red River, the current Solid Waste provider, the full amount of their bill for the last month of service because of the ongoing collection issues. He wants the city to take the leftover money and issue a refund to customers. However, the city says as it works works on providing some sort of relief to Red River customers, it would not come in the form of a refund.
For more information on GFL and upcoming changes, visit the city's website.
Tune in tonight at 5 and 6 for more on what you need to know about the big switch.
Copyright 2022 WPTA. All rights reserved.