You can now follow the INDOT plow trucks in real-time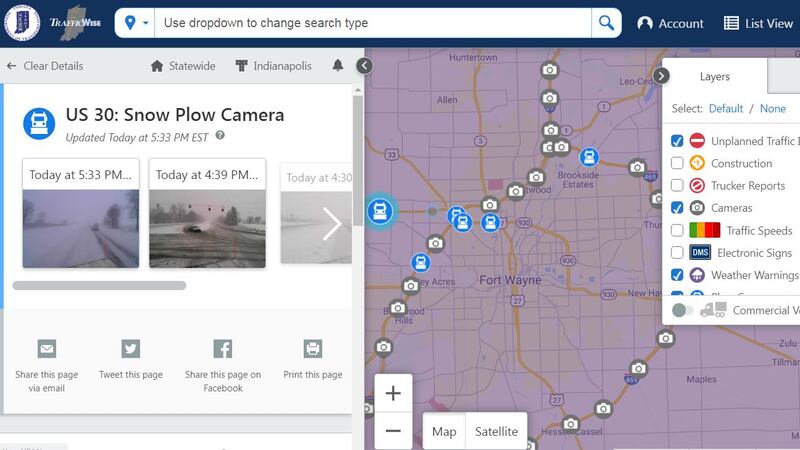 Published: Feb. 2, 2022 at 6:15 PM EST
FORT WAYNE, Ind. (WPTA) - While state plow drivers are out battling the first major snowstorm of 2022, they are now able to take us along for the ride, virtually.
INDOT is striving for a new level of transparency when it comes to its snow plowing efforts. INDOT crews were ready to take action this week. Wednesday morning, we saw workers prepping those yellow plows and loading the salt at the state's facility on Fort Wayne's north side.
Mallory Duncan of INDOT told us, "Your best resource is our INDOT 511 site. That site is going to show you not only where the plows are on the map but it's going to show you real time road conditions. So, you're going to be able to see that green, yellow, red lines along the roads and unfortunately we're going to see a lot of yellow and red here the next couple of days but it's important that if you do have to travel to look at that travel site first and you can literally see your entire route.
She added, "You can see what it looks like and take a look at those plow cameras and take a look at the roads. You can see kind of what your travel conditions are going to be like through you for the storm to the next couple of days."
They told us that hundreds of INDOT trucks would be on the roads, that along with the dozens of city and county trucks. The state has attached cameras to some of their plow trucks which can now stream live pictures of snow conditions on Hoosier roads.
Officials urge you not to drive, but if you have to, they ask that you give the trucks plenty of room and be patient. The cameras can be viewed via INDOT's traffic website at www.511IN.org.
Copyright 2022 WPTA. All rights reserved.