21Country Update: Homestead sophomore makes directorial debut
Morgan Gullett releases music video collaboration "Easy for Me"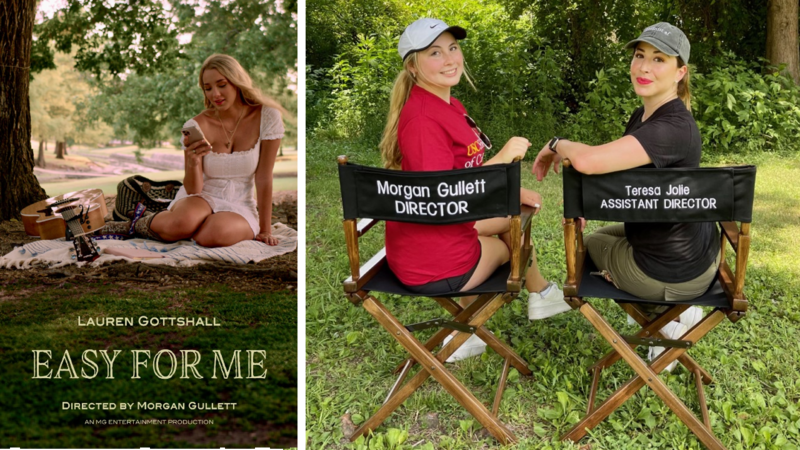 Published: Dec. 10, 2021 at 2:45 PM EST
FORT WAYNE, Ind. (WPTA) - We first met Morgan Gullett in April. At the time, she was wrapping up her Freshman year at Homestead High school, after moving from Houston, Texas in 2020. At just 15-years-old, she had already produced, directed, written, and even acted in several filmmaking projects -- with accolades to show for it.
RELATED: Homestead teen balancing first year of high school, producing films and music videos in spare time
Now in 10th grade, Gullett's work, which has her traveling across the U.S, continues. Over the summer, she began planning a music video for 19-year-old singer/songwriter Lauren Gottshall. Using past experience, she pulled together a crew of about 20 people to bring her idea, to reality. In September, Gullett met with Gottshall in Dallas, spending two days of heavy production directing the music video "Easy for Me".
After several more weeks of editing, her vision came to fruition. Gullett and Gottshall released their work to the public December 10. In a statement sent to ABC21, the young filmmaker said, "It doesn't matter how old you are, or where you live. What does matter in this business is that you're not afraid to be persistent, that you're driven, and that you have a thick skin!"
As for what's next, the sophomore doesn't plan on taking any breaks. We're told she's directing another music video in LA this month. Two additional short films are in works for next spring, and even talks are underway for a feature length film! Morgan Gullett plans to attend film school when she graduates Homestead.
You can view her previous and upcoming work on her website here.
Copyright 2021 WPTA. All rights reserved.