2021 Winter Weather Special
Published: Nov. 23, 2021 at 7:30 PM EST
FORT WAYNE, Ind. (WPTA) - Meteorological Winter, the time period meteorologists and climatologists use for winter record-keeping, begins on December 1. As those who have lived in the region for years know well, each winter can bring wildly different temperatures and precipitation. That's why the ABC 21 Weather Team is dedicated to helping you prepare for this winter.
Before we take a look at what future winters could have in store, let's consider what the past spring and summer brought us.
Spring and Summer 2021
March was fairly quiet, but April gave us one last shot of winter. A total of 4.8 inches of snow fell during the month, the highest April snowfall in over 25 years.
May was well below average in the first half of the month with a few mornings of frost. Summer kicked into gear by mid-May, but we didn't see much in the way of storms until June.
June 18th brought us 21 Country's first round of severe weather for the year. An EF-2 tornado ripped through Jay County, destroying houses and trees along a nearly six mile path. That same storm tracked into Mercy County, Ohio, causing damage to several homes. Less than 48 hours later, a tornado struck Steuben County during the overnight hours on June 20th. That storm caused damage in Fremont and was later rated an EF-1 tornado.
July had an unusual number of 90 degree days--zero. Heavy rain arrived at times in July, but there was no widespread severe weather.
Severe weather returned though in August, with a round of storms causing damage and power outages on August 11th. A weak tornado touched down in Van Wert County but only caused minimal crop damage.
September started with a few 90 degree days, but more fall-like weather arrived by the middle of the month.
Polar Vortex Disruption
Temperatures have, on average, been much warmer than normal. Generally speaking, this is our new normal, with milder stretches outpacing our colder ones. This doesn't mean, though, that this will always be the case. In fact, climate change may result in more polar vortex disruptions than ever before.
"The Polar Vortex" is a phrase that has been used since the mid 19th century, yet before the winter of 2013-2014 - one of our region's coldest and snowiest winters on record - the phrase was not widely used in the public vernacular.
Since that great cold outbreak, two other impressive, record-shattering arctic intrusions have occurred—one in February 2015, and another in January 2019, when wind chills dipped as low as 50° below zero.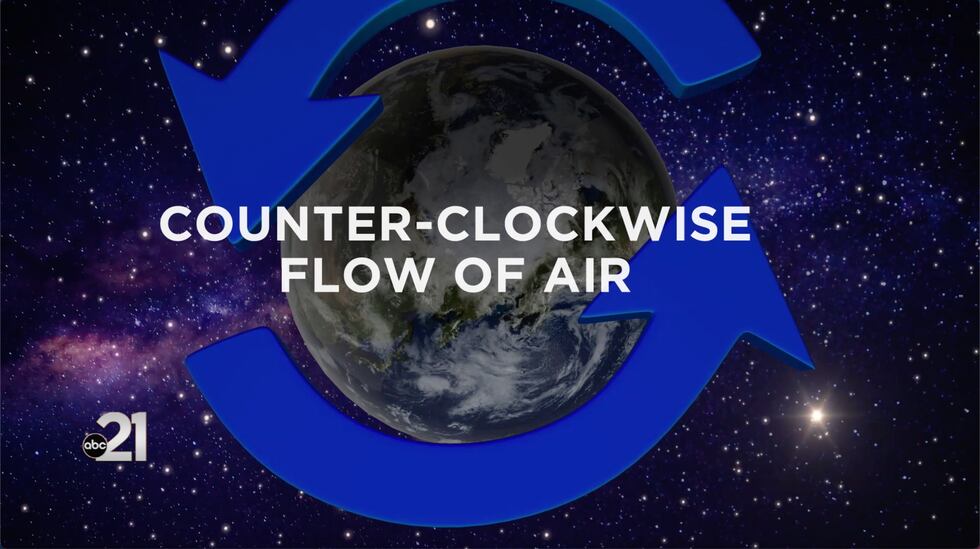 So, what is a polar vortex? It's important to first understand that regardless of whether we're experiencing a warmer or colder than normal winter, the polar vortex always exists near the Earth's poles. The vortex itself is a counter-clockwise flow of air that act as a barrier between the bitter arctic and our more temperate climate. However, as the vortex expands, a large chunk of cold air can become displaced and travel southward into North America.
During an age of rapid global warming, it sounds contradictory that in the past 10 years, three winters, or 30%, have featured a significant outbreak of bitterly cold, arctic air. In fact, out of the top 20 coldest winters on record for this region, a quarter of them have occurred in this century, with the majority of those occurring within the past 10 years.
Though on its surface these arctic outbreaks seem to fly in the face of what we understand about global warming, climate researchers believe it's actually something we should come to expect...at least, for now.
According to a recent study of the polar vortex by a team of climatologists—Dr. Judah Cohen, director of Seasonal Forecasting Atmospheric and Environmental Research, among them—perhaps the most dynamical winter weather event responsible for these disruptions is called arctic amplification, which describes the accelerated rate at which the Arctic is warming.
This phenomenon has resulted in rapid Arctic sea ice decline which, due to increased moisture availability, also coincides with increased snow fall and snow cover at high latitudes. In short, climatologists believe this imbalance could disrupt and stretch the stratospheric polar vortex, thus forcing cold air to become dislodged and spill into the northern midlatitudes.
So, what's the verdict? Will the polar vortex make a return this winter? We have an update about the possibility as part of our official winter 2021-2022 forecast, below.
Could Climate Change Mean Bigger Snow Events?
The disruption of the polar vortex will play a key role in our weather as the climate changes in the years to come. It's also possible that a combination of the changing climate and increasing disruptions of the polar vortex could actually lead to bigger snows, even though temperatures will be higher overall.
Some experts refer to climate change as 'global weirding' because of the increasing trend of more extreme and more costly weather events. That means, thanks to variations in the polar vortex, Northeast Indiana and Northwest Ohio will still experience sharp outbreaks of cold air in the next several years.
Climate modeler Paul Staten at Indiana University says that while cold air isn't going away anytime soon, warmer winters as a whole will be more and more likely going forward. He compares a weather event to a dice roll and climate change to weighing a dice toward higher numbers. That doesn't mean you'll never roll a lower number (cold winters), but odds are more favorable for higher numbers (warmer winters). In other words, there's still a chance for us to see cold and snowy winters even with a warmer world as a whole.
Warmer winters also mean a greater likelihood of seeing rain rather than snow when temperatures are more marginal, which could lead to more flooding. Gabriel Filippelli, director of the Environmental Resilience Institute at Indiana University, says flooding events are most concerning to him over the next 20 years. He says that flooding events are going to be more likely, and when precipitation that isn't frozen falls on frozen ground, it has nowhere to infiltrate or percolate, causing it to wash off and cause flooding.
But for now, arctic air outbreaks in a warming climate could actually mean bigger snow events. Filippelli notes that colder latitudes are more likely to have snow as a major form of precipitation. And when temperatures are higher, the atmosphere is able to hold more water vapor, leading to larger amounts of snow.
Above all, temperature swings and extremes are going to be more likely going forward. Climate models are consistent in projecting warmer winters as the climate changes, but the biggest question mark remains what we choose to do about it.
Winter 2021-2022 Forecast
So what will this winter have in store?
One big influence on our winters is the waters over the equatorial Pacific Ocean. The temperatures of those waters cause changes in pressures and air circulations around the world. The different pressure and temperature setups are more commonly known as El Nino and La Nina.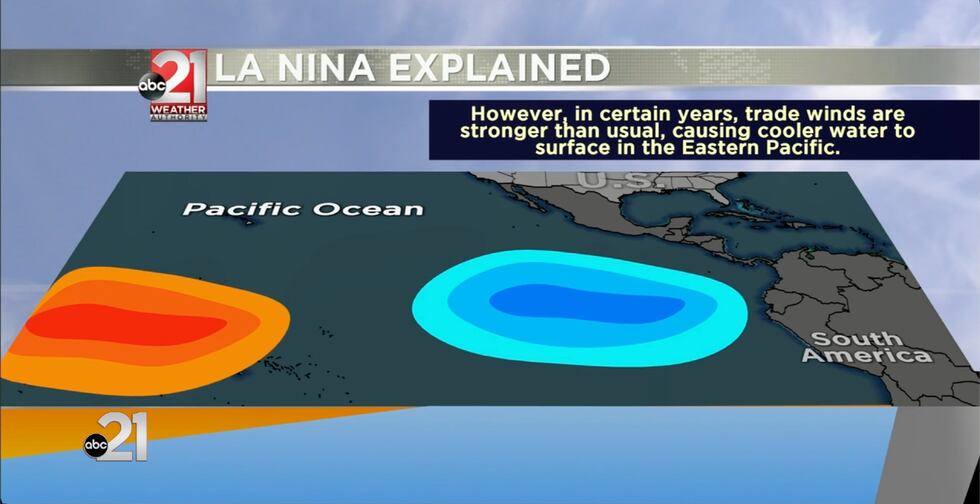 During typical La Nina years, the Pacific Jet tends to be more active, with the polar jet stream a little more prone to sagging farther south, thus increasing the potential for arctic cold events and winter precipitation in the form of ice and snow. This, combined with a bit more Arctic Sea Ice than past years, would indicate a different winter than past years.
An active jet stream and signs that the polar vortex could weaken in the months to come lead us to believe this winter could be slightly below normal, which would certainly be a turn, considering the past four winters have been above, to well-above, normal. In fact, over the past 5 winters, two—2016-2017 and 2019-2020—made it into the top 10 winters ever recorded in Fort Wayne.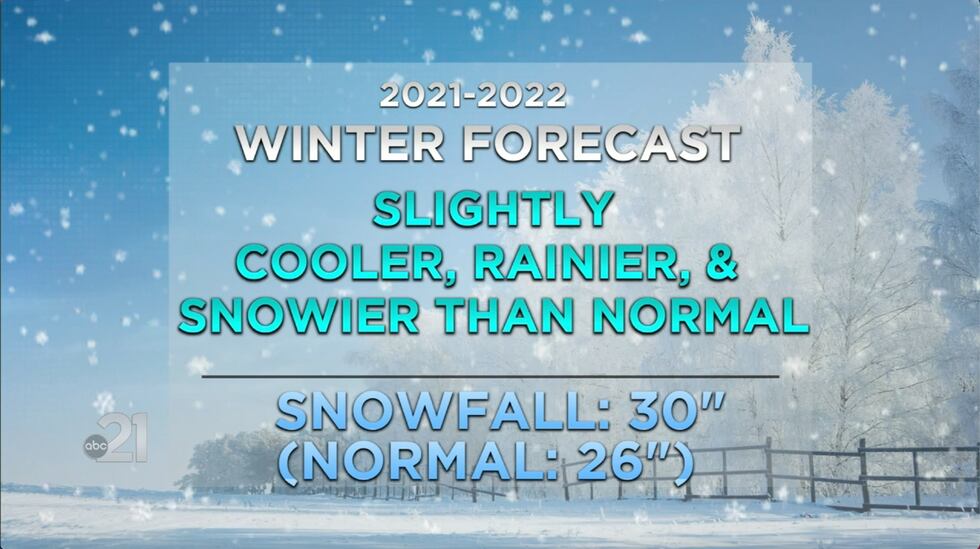 But we think this year that trend will break. In part due to a more active jet stream, increased arctic ice (and therefore air) availability, and a higher likelihood of polar air intrusions thanks to La Nina's redevelopment, Northeast Indiana and Northwest Ohio should prepare for a slightly colder and wetter than normal winter, with snowfall slightly above average, coming in at 30″.
December will likely come in colder than normal with an active storm track also bringing snowier than normal conditions (normal snowfall for December is 8″). Things moderate somewhat in January, with near average conditions expected, though a warming trend will likely be noticed in February. Even so, snowfall should still be on the higher side of average.
As for when we can expect a polar vortex intrusion this winter, it is difficult to say months in advance. At this stage, December or January seem more likely to feature polar intrusions than February.
Stick with the ABC21 Weather Team throughout the winter for updates on all the things winter will likely throw at us: snow, wind, ice, rain, and cold temperatures.
Copyright 2021 WPTA. All rights reserved.