Grant Me Hope: Indiana's Waiting Children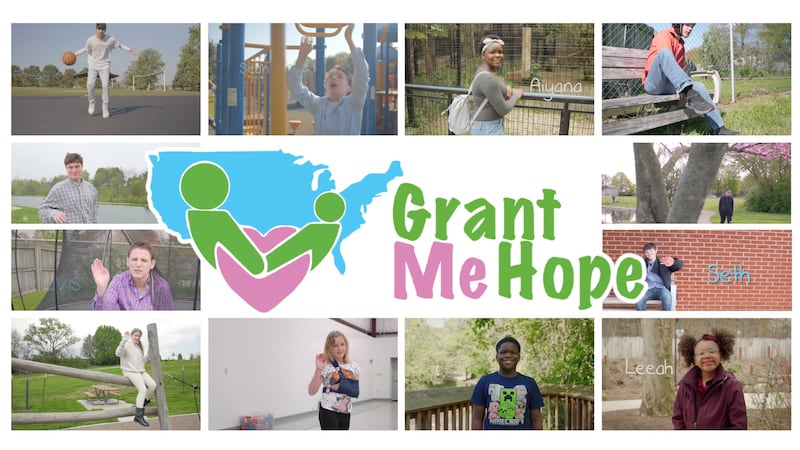 Updated: Oct. 30, 2021 at 9:45 AM EDT
FORT WAYNE, Ind. (WPTA) - According to the latest study, there are estimated to be nearly 424,000 children in foster care across the U.S.
The latest report published in March 2021, by childwelfare.gov, revealed statistics from a comprehensive study of 2019.
Key findings show:
46% of kids in foster care were placed in nonrelative foster family homes

Over half of all cases intended to reunite children with their biological parents or caretakers, while 47% of all cases actually met that goal

40% of children who left foster care across the U.S, were wards of the state less than one year
Adopt US Kids estimates there are 13,000 children in Indiana's foster care system.
The Indiana Adoption Program says 1,500 of those kids, are up for adoption right now, or are waiting for courts to finalize Termination of Parental Rights.
In 2021, ABC21 partnered with Michigan-based non-profit Grant Me Hope, to bring awareness to adoptable children across the midwest.
Helen Zeerip, an adoptive parent herself, runs the organization.
Grant Me Hope was inspired by an educational video she had to watch, as part of her annual foster parent licensing.
"My husband and I had been doing foster care for about 11 years. At that point, I used to pray every day. 'Lord, if there's somebody I need to help, let me see it,'" she explained. "I put the training video in, as I was doing emails at the same time, killing two birds with one stone and a little boy came on, he's maybe 15, and he said this, and it changed my life."
"He said, 'My siblings told me once I reach a certain age, I'll be unadaptable'," she described. "He paused and looked real sad and said, 'No one should steal your hope'."
"That hit me so wrong," Zeerip added.
But the shocking statistics that caused her to act, was learning 25% of kids who age out of the system at 18, end up homeless.
And by Grant Me Hope placing children in forever homes, she hopes she'll target the homelessness at the root of the problem, and give kids lifelong support at they navigate life.
Zeerip says the foundation of her organization runs on three principals:
Educate America on the need for foster and adoptive parents

Recruit more foster and adoptive parents, to keep children out of institutions

Get more kids adopted
One of the ways Grant Me Hope does that, is by broadcasting video they produce, across television stations in the Midwest.
Currently, they work with child placing agencies in Indiana, Michigan, Ohio, Mississippi, and Georgia.
Their goal is to overcome privacy barriers to get the word out about kids who need homes now.
For example, the Indiana Adoption Program on average, lists 150 youth publicly.
This is often the only way those without a foster parent license can see which children are in need of homes.
But Zeerip says a bio on a website just doesn't communicate effectively.
"They might be on a website — there might be something written about them, but it's hard to get the person's personality," she told us. "You can't see how vibrant this kid is, or how sad this child is, or how this child would mesh in with your family."
"Putting them on TV and in these videos — it gives them a voice," she continued. "Their own voice to portray what they're looking for in a family, what they would love, their hopes and dreams. It's just huge and getting that awareness out and making people to make that phone call and to say 'you know what, I can get my foster license. I can adopt him'."
Adopting through a public agency like the Indiana Department of Child Services costs around $1,500 — and in most cases a stipend is provided to cover that costs, making it essentially free.
And when it comes to being a foster and adoptive parent, education is key.
Common challenges kids face include: abuse & neglect, attachment disorders, drug exposure, and developmental, emotional, and learning disabilities.
"I think our kids are just like every other kid, you know. They have experienced things they shouldn't, there are some challenges that may present themselves," Indiana Adoption Program consultant Ashley Dicke said, "but once the kids see these families are all in, that they are willing to stand by them once they heal, to show them what a family should look like, and could look like… sharing those things with the child is incredibly important."
Dicke manages adoption cases for La Grange, Steuben, Noble, DeKalb, Whitley and Allen Counties.
Families interested in adoption outside those counties, can view the region map here, for other consultants.
Indiana Adoption Program manager Michelle Savieo says parents can get plenty of education and training, before deciding if becoming an adoptive home is right for them.
We're going to provide orientation, and really provide families with insight on what adoption from foster care might look like," she said. "And then we're going to enroll them in training that's a four session — 26 hours of training that we provide to families. We also do background checks and a home study."
"One of the things that I think is a great misconception is, that people have to be perfect parents," Savieo added. "No parent that I've ever met is a perfect parent. People only have to be willing to have a heart to parent these children. Patience and a great sense of humor makes perfect parents — and being willing to make a commitment to children."
"Every child needs that forever. Who are you going to call when you get a flat tire? Who's going to walk you down the isle at the wedding? Who are you going to call when you need something in the middle of the night?" Dicke said. "That sense of 'this is my family, these are my people, this is who I can lean on when things get rough'."
Licensed foster parents can receive stipends to help with costs of raising a child, vouchers for child care, WIC for food, and access to many other resources.
While they are a ward of the state, healthcare for children is covered by Indiana Medicaid.
Continued support post-adoption is possible as well, but varies from case-to-case.
You can see Indiana's Waiting Children here, keep up to date on Grant Me Hope here, learn more about becoming a foster parent here, and read the detailed steps in the adoption process here.
ABC21 will continue to run Grant Me Hope segments on the weekend morning shows.
Past segments, and the children featured in this special, can be viewed here.
To learn more about Grant Me Hope and how you can adopt a child in need of a family, visit their website. A weekly broadcast airs on ABC21 each Sunday at 6 and 8 a.m.
Copyright 2021 WPTA. All rights reserved.